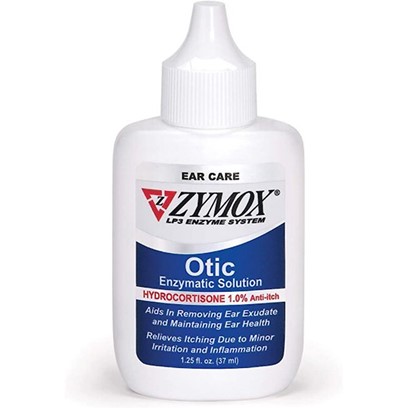 Zymox OTIC HC 1.0% Enzymatic Solution w/Hydrocordisone
Every time a new member signs up, we will donate a FREE membership to a Best Friends adopted animal. Best Friends is America's largest animal sanctuary.
YOUR FUTURE PETCARE NEEDS
Our customers typically save close to $200/yr when purchasing preventatives as members of PetPlus.
PetPlus is a membership plan that gives you wholesale pricing on preventatives, supplements and speciality foods.
With Free Shipping always, no minimums.
Why Become A Member? Additional Ways To Save With PetPlus
Typical Annual Savings "For Your Pet
| | | | | | | | |
| --- | --- | --- | --- | --- | --- | --- | --- |
| | | | | | | | |
| | Typical Annual Cost | $40 | $190 | $95 | $112 | $200 | |
| | PetPlus Annual Cost | $12 | $110 | $55 | $68 | $150 | |
| | Sample Annual PetPlus Savings | $28 | $80 | $40 | $44 | $65 | |
| | | | | | | $242 | |
Typical Annual Cost
PetPlus Annual Cost
Sample Annual PetPlus Savings
We're Here to Help You Every Step of the Way
| | |
| --- | --- |
| Wholesale Prices on Pet Medication & Supplements | |
| Free 24/7 Pet Help provided by whiskerDocs | |
| Wholesale Prices on RX & Premium Foods and Treats | |
| Convenient Medication Pickup Option | |
| Free Delivery on Medication | |
Product Description
Watching your pet scratch at an itchy, painful ear is no fun. Help your pet feel better with Zymox OTIC. It treats the ear externally for acute and chronic inflammation caused by bacterial, fungal, and yeast infections. There are a lot of different causes of these infections including excess hair, a suppressed immune system, and excessive ear skin folds. The hydrocortisone in the OTIC provides immediate relief from inflammation and itching so your pet can feel better faster.
How to Apply Zymox Otic?
The exact quantity of Zymox Otic HC 1.0 depends on the extent and kind of infection your pet has. To use, first tilt your dog's head to one side. Then, apply HC 1.0 enzyme solution to the outside of the ear, and fill the ear canal. Massage it deep into your dog's ear canal from the house by massaging gently behind your dog's ear. Finally, allow your dog to shake their head and wipe away any excess liquid.
How Does Zymox Otic Work?
Otic HC 1.0 enzymatic solution contains a unique blend of three different natural enzymes - lysozyme, lactoferrin, and lactoperoxidase. Together, these provide you with powerful and long-lasting antimicrobial action that targets a host of chronic and short-term ear infections like otitis media.
Does Zymox Otic Kill Ear Mites?
Zymox Otic is used to treat a variety of bacterial, fungal, and yeast infections. It does not kill ear mites but may be able to help with the inflammation caused by them. Since this is a medicine, please consult a doctor before administering this to your pet.
What Is Zymox Otic?
Zymox Otic is a common medicine used to treat medical conditions like chronic otitis externa due to bacterial, fungal, yeast infections, acute and chronic otitis media, and infections of antibiotic-resistant microorganisms. The enzyme system destroys antibiotic-resistant microorganisms, bacteria, fungus, and yeast colonies in your pet's ear. The natural bioactive components are safe for extended preventative use, though you need to follow your doctor's instructions regarding this.
What Is Zymox Otic Used For?
Zymox Otic is used for the treatment of acute otitis. You position the bottle in your pet's ear and squeeze the bottle, liberally fill the ear, and gently massage working medication into the infected area. Remember to shake well before use to ensure the proper proportions of medicine are applied to your pet's ear. Also, remember to wipe to remove excess liquid from the ear. Keeping the area wet would encourage microbial growth. Clean once a day or as many times as your doctor had advised.
Does Zymox Work for Ear Infections?
Yes, Zymox works on a variety of bacterial, fungal, and yeast infections.
Should I Get Zymox With or Without Hydrocortisone?
Hydrocortisone is a steroid. It is used to treat a range of different medical conditions, and vets can even advise extended use on persistent infections. However, since it is a steroid, you should only use this under medical supervision. You should not use these unless your doctor has asked you to. If you are only looking to prevent ear infections or want to give temporary relief to your pet's itchy ears, you can try the version without hydrocortisone till you see the vet.
How Often Can You Use Zymox Otic?
You can use Zymox Otic daily for both a short period of time and a more extended period of time. The duration depends on the type of infection, the severity of the disease, and the root cause of the illness. Since it treats a medical condition, please rely on the advice of your vet.
Do Vets Recommend Zymox?
Yes, vets recommend Zymox to treat a variety of infections. Vets can also advise pet owners to use this medicine as a preventative to be used weekly or fortnightly to prevent diseases as well.
How Quickly Does Zymox Work?
Zymox starts to work immediately. However, you will see a noticeable difference within a week of regular use. You may also notice quicker results if this is used along with oral antibiotics that will dry up the infection from the inside. Your vet may prescribe oral medicine that is to be used in combination with these ear drops if they feel the severity of the condition warrants it.
Does Zymox Have Side Effects?
There are no reported side effects of Zymox. However, if you use the version that contains hydrocortisone, you should keep in mind that steroids can have side effects. The skin can become fragile with extended use, and you may even get a rash or skin reaction at the infection site. Contact your vet if you think your pet is experiencing any side effects.
Can Zymox Cause Deafness?
No, Zymox cannot cause deafness. If you think your pet's hearing is being affected, contact your vet immediately.
Is Zymox a Steroid?
The version that contains hydrocortisone contains a steroid. The version without hydrocortisone does not contain any steroid.
Is Zymox Antifungal?
Yes, Zynox is an antifungal. It is also antimicrobial and antibacterial.
Side Effects & Warnings
Keep out of reach of children. For animal use only. Do not use with any other topical ear medications as the hydrocortisone might not work.
Ingredients
Natural Enzymes, Lysozyme, Lactoferrin, Lactoperoxidase, Hydrocortisone (1.0%)
Directions
Shake well before use. Apply liberally to un-cleaned ear, filling ear canal. Gently massage and work into infected area. Wipe to remove excess. Allow animal to shake head.
Use 1x daily for 5- 14 days. Safe for extended use on persistent cases. Contraindicated in cases of ruptured or punctured ear drums. Not for use on pregnant or lactating females.