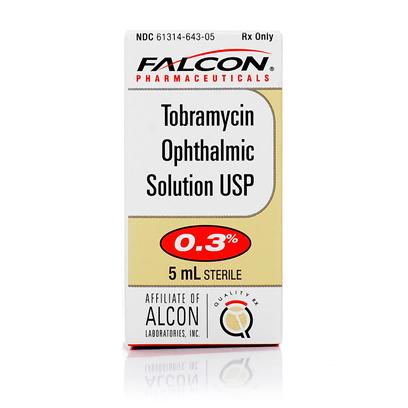 Tobramycin Ophthalmic Solution 0.3%
Typical Consumer
Price
$

20.25
PETPLUS
Member Price Cannot be combined with other offers
Every time a new member signs up, we will donate a FREE membership to a Best Friends adopted animal. Best Friends is America's largest animal sanctuary.
YOUR FUTURE PETCARE NEEDS
Our customers typically save close to $200/yr when purchasing preventatives as members of PetPlus.
PetPlus is a membership plan that gives you wholesale pricing on preventatives, supplements and speciality foods.
With Free Shipping always, no minimums.
Why Become A Member? Additional Ways To Save With PetPlus
Typical Annual Savings "For Your Pet
| | | | | | | | |
| --- | --- | --- | --- | --- | --- | --- | --- |
| | | | | | | | |
| | Typical Annual Cost | $40 | $190 | $95 | $112 | $200 | |
| | PetPlus Annual Cost | $12 | $110 | $55 | $68 | $150 | |
| | Sample Annual PetPlus Savings | $28 | $80 | $40 | $44 | $65 | |
| | | | | | | $242 | |
Typical Annual Cost
PetPlus Annual Cost
Sample Annual PetPlus Savings
We're Here to Help You Every Step of the Way
| | |
| --- | --- |
| Wholesale Prices on Pet Medication & Supplements | |
| Free 24/7 Pet Help provided by whiskerDocs | |
| Wholesale Prices on RX & Premium Foods and Treats | |
| Convenient Medication Pickup Option | |
| Free Delivery on Medication | |
Product Description
Ultimate Guide to Tobramycin Ophthalmic Solution 0.3%
Meet the Pet Eye Infection Protector: Tobramycin Ophthalmic Solution 0.3%!
Tobramycin Ophthalmic Solution 0.3% is a prescription (e.g., conjunctivitis). Generic alternative Tobramycin for dogs and cats is a two to three times daily solution that is applied outside of the eye, which eases their discomfort during the healing process.
How does Tobramycin Ophthalmic Solution 0.3% work?
Tobramycin Ophthalmic Solution 0.3% is a topical aminoglycoside and a highly potent, broad-spectrum antibiotic that stops bacterial growth. Tobramycin Ophthalmic Solution 0.3% treats external eye bacterial infections by fighting and preventing the spread of particularly dangerous Gram-negative infections.
Tobramycin is especially effective against species of Pseudomonas bacterium, such as conjunctivitis. The aminoglycoside enters the bacterial cell wall and binds with the cell 's ribosomes which are fundamental to protein synthesis for the production of the bacteria. Then the aminoglycoside inhibits protein synthesis and causes the bacterial cell to die.
Tobramycin 's other additives are inactive ingredients and a preservative.
How is Tobramycin administered?
Tobramycin 's sterile solution is applied topically outside of the pet 's eye, not inside. Cradle the pet 's head and face upward towards the ceiling before applying the solution around the eye, and don 't allow your pet to wipe away the solution until it is absorbed.
Wash your hands before and after application. Do not touch the sterile applicator for this will contaminate the solution.
In terms of Tobramycin dosage, the usual dosage is 1 to 2 Tobramycin drops to each affected eye every 12 hours. However, a licensed veterinarian will dictate the pet 's specific dosage to prevent paralysis from an accidental overdose. Twice a day applied for seven days should show improvements in your pet 's infection and suffering.
Which precautions of which you should be aware?
Pets that cannot use Tobramycin are those who are allergic to the product, have inner organ complications, or those who are dehydrated. Certain medications have negative interactions with Tobramycin Ophthalmic Solution, such as other eye medications. Safety to pregnant, breeding or lactating pets has not been evaluated.
Overdose can paralyze the pet, so keep following the specific prescribed dosage by your veterinarian. Longterm use of the product can cause kidney damage or kidney dysfunction. If you observe any of these symptoms, call your veterinarian or emergency veterinary clinic immediately!
What are Tobramycin 's side effects of which you should be aware?
The most frequent adverse reactions are hypersensitivity, burning, stinging, eyelid swelling or itching, and conjunctival erythema (i.e., redness). If your pet reacts to Tobramycin Ophthalmic Solution USP, 0.3%, discontinue use and consult your veterinarian.
Frequently Asked Questions
What is Tobramycin?

Tobramycin is a prescription aminoglycoside antibiotic topical solution to protect pets ' eyes from external bacterial infections. Tobramycin for dogs and cats is a two to three times a day solution that is applied outside of the eye to cause the breakdown of gram-negative bacterial cell walls which stops bacterial growth and spreading infection.

How do I use Tobramycin 0.3% eye drops?

Tobramycin 0.3% is for topical ophthalmic use only externally and not for injection inside the eye.

Can you use Tobramycin for ears?

Applying Tobramycin eye drops to the ear is ototoxic (i.e., toxic to the ear). Ototoxicity can cause irreversible and permanent damage to the ear.

What is Tobramycin Dexamethasone?

Tobramycin is the antibiotic that treats the infection. Dexamethasone is the corticosteroid that reduces the swelling. Tobramycin Dexamethasone (the generic name for Tobradex) is a combination of two antibiotic eye drops that effectively treat bacterial eye infections while also reducing swelling associated with the infection.
Concluding Thoughts
The most important thing that you should know about Tobramycin for dogs and cats is its power to give relief to external eye bacterial infections, protecting pets ' eyes during the healing process, and showing eventual improvement in their infection and suffering.
DISCLAIMER: Ask your veterinarian or consult with one of our pet care specialists at 1-800-844-1427. This informative article is not meant to substitute for the diagnosis, treatment, and professional advice from your veterinarian or other qualified professionals regarding a medical condition.
Tobramycin Ophthalmic Solution is the Generic Alternative to Tobrex.
Side Effects & Warnings
Side effects are rare with Tobramycin Ophthalmic Solution, however, if your pet appears to be disturbed by burning or stinging, or if inflammation appears to worsen, discontinue right away and contact your vet. The most frequent adverse reactions to Tobramycin are hypersensitivity and localized ocular toxicity, including lid itching and swelling, and conjunctival erythema.
Aminoglycosides, the class of drugs tobramycin belongs to are always with their share of side effects. Drugs falling under this category are ototoxic to animals that can impair hearing or cause loss of balance in animals. The medication can cause the usual reddening and irritation in animals. Kidney dysfunction is another side effect seen in certain animals using the medication for a prolonged period. 
Animals with known reactions to the drug must not be treated with the medication. Do not use the medication in dehydrated animals as well as in those suffering from inner organ complications. Prolonged use of medication can cause damage to kidneys in certain animals. Tobramycin has a tendency to react with certain combinations of medications. Tobramycin Ophthalmic Solution should not be used in conjunction with any other topical antibiotic solution or ointment unless otherwise dictated by your veterinarian. Above all, it is important to strictly follow the prescribed dosage, as medication overdose can paralyze the animal.
Ingredients
Tobramycin 3 mg 0.3%.

Inactive Ingredients: Boric Acid, Sodium Sulfate, Sodium Chloride, Tyloxapol, and Purified Water. Sodium Hydroxide and/or Sulfuric Acid may be added to adjust pH 7.0 - 8.0.

Preservative added: Benzalkonium Chloride 0.1 mg 0.01%.
Tobramycin Ophthalmic Solution is an ophthalmic antibiotic used in veterinary medication in the treatment of bacterial infections affecting the eyes. The medication belongs to the aminoglycosides class of drugs. In certain other cases, the medication also finds use in controlling bacteria caused by respiratory infections, bite wounds, or injury-borne infections, and also those affecting the skin and ear of animals. Tobramycin, the active ingredient used in the medication possesses active antibiotic properties, which when administered restricts bacterial growth by delaying the protein synthesis. Though the drug is not approved for use in animals, most veterinarians have agreed to use the medication on dogs. However, tobramycin is a prescription drug and is available in various ophthalmic preparations as an injectable solution, suspension as well as ointment. 
Directions
Use the medication only by prior consent from a veterinarian. The usual suggested dosage of the medication is 1 mg/lbs in a gap of 8 hours. The dosage administration can be intravenous, intramuscular, or subcutaneous.  Follow the application instructions on the box, and adhere to your veterinarian's dosage instructions. Your veterinarian will likely instruct you to use the entire container of the solution, even if symptoms appear to have diminished or disappeared entirely.

Be sure to wash your hands before administering the solution, and be careful not to touch the tip of the applicator. The medicine is sterile, and touching it could contaminate the tip.

To apply, you'll cradle your pet's face, and encourage their face upward toward the ceiling. Gently apply the solution around the eye, and don't allow your pet to wipe the solution away. Don't forget to praise your pet for cooperating.