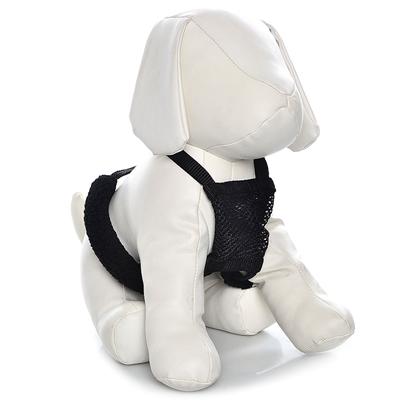 Sporn Non-Pull Mesh Harness-Black
Typical Consumer
Price
$

13.13
PETPLUS
Member Price Cannot be combined with other offers
Every time a new member signs up, we will donate a FREE membership to a Best Friends adopted animal. Best Friends is America's largest animal sanctuary.
YOUR FUTURE PETCARE NEEDS
Our customers typically save close to $200/yr when purchasing preventatives as members of PetPlus.
PetPlus is a membership plan that gives you wholesale pricing on preventatives, supplements and speciality foods.
With Free Shipping always, no minimums.
Why Become A Member? Additional Ways To Save With PetPlus
Typical Annual Savings "For Your Pet
| | | | | | | | |
| --- | --- | --- | --- | --- | --- | --- | --- |
| | | | | | | | |
| | Typical Annual Cost | $40 | $190 | $95 | $112 | $200 | |
| | PetPlus Annual Cost | $12 | $110 | $55 | $68 | $150 | |
| | Sample Annual PetPlus Savings | $28 | $80 | $40 | $44 | $65 | |
| | | | | | | $242 | |
Typical Annual Cost
PetPlus Annual Cost
Sample Annual PetPlus Savings
We're Here to Help You Every Step of the Way
| | |
| --- | --- |
| Wholesale Prices on Pet Medication & Supplements | |
| Free 24/7 Pet Help provided by whiskerDocs | |
| Wholesale Prices on RX & Premium Foods and Treats | |
| Convenient Medication Pickup Option | |
| Free Delivery on Medication | |
Product Description
The Complete Guide To Sporn Non-Pull Mesh Harness Black
Meet Your Favourite Walking Buddy!
Are you tired of walking your dog because they pull so much on the leash? Do choke collars and other painful ways not work with your dog? Does your family dread take the dog out because of how strongly your dog is dragging the walker along? It sounds like you need the Sporn Non-Pull Mesh Harness!
Sporn Non-Pull Mesh Harness is an innovative product that will make your dog walks enjoyable again. No longer will you be yanked and dragged along with your dog when they spot a squirrel! This harness uses a patented elastic mesh to ensure your dog doesn't escape and doesn't put all their strength on their neck or your arm!
How Does Sporn Non-Pull Mesh Harness Work?
Sporn Non-Pull Mesh Dog Harness works by distributing your dog's strength. This way, when you hold the leash to stop your dog, neither can you hurt the dog accidentally, nor can the dog yank your arm out of the socket! Sporn Non-Pull Mesh Harness has two soft padded restraint sleeves that go under your dog's armpits.
This way, when you stop your dog from pulling, you are holding their entire torso in place, not just their necks. This is a much more effective and humane way to get your dog to stop pulling. With choke or prong collars, you stand the risk of injuring your dog in a very sensitive and critical area when they pull.
The mesh in a Sporn Non-Pull Mesh Harness is entirely tubular with no edges in the mesh. This is good news for dogs with short coats and sensitive skin. The restraints have neoprene padding that is comfortable and doesn't chafe against your dog's skin. In other harnesses, this can leave your dog with rashes or worse!
What's Wrong With Choke Collars or Prong Collars?
Both these types of collars can be used effectively by skilled professionals. However, the vast majority of dog owners are using both incorrectly. These types of collars need to be in a particular position below the dog's face to be used safely. It is not always possible to keep these collars in place at all times!
Choke and prong collars can injure your dog's trachea. The neck area of a dog is susceptible to injury. Any damage could have severe consequences. A choke collar can bruise or crush the trachea and esophagus. A prong collar can pierce it. It only takes one small misstep or an overly excited dog to cause these injuries.
Collars are liable to slip off your dog. Choke collars are necessarily larger than the size your dog needs so that you have some leeway to choke' the collar. Smart dogs will soon figure out how to slip out of these. This can put you and your dog in a dangerous situation. Sporn Non-Pull Mesh Harness is the alternative!
Why Is Leash Pulling Bad?
There are several reasons why you shouldn't encourage leash pulling behavior. The most obvious one is that it can injure your dog. Besides the neck, pulling on the leash can damage your dog's spine and nerves, which can become permanent. This damage can even snowball into more significant issues.
Dog collars rest on your dog's thyroid gland. If your dog pulls very forcefully and on every walk, the gland can become injured, causing hypothyroidism. There are nerves in your dog's neck that go down to their paws. Damage to these nerves can cause numbness and pain.
Leash pulling can result in epilepsy, anxiety when it comes to walks, behavioral issues like nervousness and aggression, and paralysis. Why risk all of that when you can simply shift to the innovative Sporn Non-Pull Mesh Harness? This is an entirely safe way to protect your dog while you train out leash pulling!
Frequently Asked Questions
Is Sporn Non-Pull Mesh Harness Only for Large Dogs?

Any size of dog can injure themselves by pulling on their leash. This is why Sporn Non-Pull Mesh Harness is available in a range of sizes for small, medium, and large dogs. It protects your Chihuahua as well as your Rottweiler!

Is Sporn Non-Pull Mesh Harness Available in Other Colours?

Sporn Non-Pull Mesh Harness is available in black, red, and blue, subject to availability. Any of the colors are stylish and comfortable for your dog.

How to Use Sporn Non-Pull Mesh Harness?

Sporn Non-Pull Mesh Harness is a one-piece product. You slip the large neck hole over your dog. Next, you can ask your dog to walk into the leg holes marked by the restraint sleeves. Finally, you use the tab to tighten the structure around your dog, and voila! You're ready to walk your dog!

What Are the Materials in Sporn Non-Pull Mesh Harness?

Sporn Non-Pull Mesh Harness is made of the highest quality nylon and neoprene. These are tough, durable materials that won't break despite how much your dog pulls. You can rest assured they are effective in handling your dog's strength!

Can Sporn Non-Pull Mesh Harness Be Used as a Car Harness or Tie-Out?

You should use Sporn Non-Pull Mesh Harness only during walking or when you can supervise your dog on a leash doing other activities. You should not use it in the car or as a tie-out, nor should you leave it on your dog when you can't supervise them.

Does Using Sporn Non-Pull Mesh Harness Stop My Dog Pulling on His Leash?

No, only using a Sporn Non-Pull Mesh Harness will not teach your dog it is not okay to pull on their leash. You have to use it in combination with consistent and evidence-based training techniques to stop your dog from pulling on the leash. This harness only protects your dog from the dangers of leash pulling.
Directions
Follow directions included in packaging to ensure maximum comfort for you and your dog.