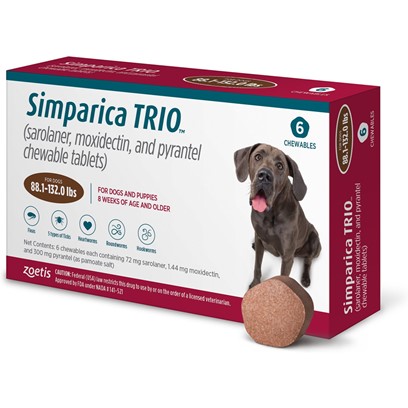 Simparica Trio Chewable Tablets for Dogs
Every time a new member signs up, we will donate a FREE membership to a Best Friends adopted animal. Best Friends is America's largest animal sanctuary.
YOUR FUTURE PETCARE NEEDS
Our customers typically save close to $200/yr when purchasing preventatives as members of PetPlus.
PetPlus is a membership plan that gives you wholesale pricing on preventatives, supplements and speciality foods.
With Free Shipping always, no minimums.
Why Become A Member? Additional Ways To Save With PetPlus
Typical Annual Savings "For Your Pet
| | | | | | | | |
| --- | --- | --- | --- | --- | --- | --- | --- |
| | | | | | | | |
| | Typical Annual Cost | $40 | $190 | $95 | $112 | $200 | |
| | PetPlus Annual Cost | $12 | $110 | $55 | $68 | $150 | |
| | Sample Annual PetPlus Savings | $28 | $80 | $40 | $44 | $65 | |
| | | | | | | $242 | |
Typical Annual Cost
PetPlus Annual Cost
Sample Annual PetPlus Savings
We're Here to Help You Every Step of the Way
| | |
| --- | --- |
| Wholesale Prices on Pet Medication & Supplements | |
| Free 24/7 Pet Help provided by whiskerDocs | |
| Wholesale Prices on RX & Premium Foods and Treats | |
| Convenient Medication Pickup Option | |
| Free Delivery on Medication | |
Product Description
Looking for regular Simparica?
Simparica Trio Chewable Tablets for Dogs is specially formulated for canine companions 8 weeks of age and older. Simparica Trio is the first and only product that combines sarolaner, moxidectin and pyrantel in each treatment to help prevent heartworm disease, kill fleas before they can lay eggs, kill 5 types of ticks, treat and prevent flea infestations and treat and control roundworms and hookworms. And each monthly chewable tablet has a palpable liver flavor and can be taken with or without food.
Simparica Trio is the ultimate in comprehensive parasite protection, combining the power of three different active ingredients to keep your dog safe and healthy. First, there's sarolaner, which helps to kill fleas and ticks on contact, preventing these pesky parasites from causing irritation, illness, or disease. Then there's moxidectin, which works to prevent heartworm disease by killing off immature heartworms before they have a chance to mature and cause damage. Finally, there's pyrantel, which helps to prevent and treat intestinal worms, including roundworms and hookworms.
But that's not all that sets Simparica Trio apart from other parasite preventatives on the market. With its beef-flavored chewable tablets, this medication is not only easy to administer, but also delicious for your dog to eat. Plus, its fast-acting formula starts to work within hours, giving you peace of mind that your dog is protected against parasites around the clock.
Side Effects & Warnings
Use with caution in dogs with a history of seizures. Simparica Trio contains sarolaner, a member of the isoxazoline class, which has been associated with neurologic adverse reactions including tremors, ataxia, and seizures in dogs with or without a history of neurologic disorders. The safe use of Simparica Trio has not been evaluated in breeding, pregnant, or lactating dogs. The most frequently reported adverse reactions in clinical trials were vomiting and diarrhea.
Ingredients
sarolaner, moxidectin, and pyrantel (as pamoate salt).
Directions
Choose the appropriate dosage based on your dog's weight. The tablets come in different strengths for different sizes of dogs.
Give the tablet to your dog orally, either by placing it in their mouth or hiding it in their food. The tablets are flavored to make them more appealing to dogs.
Give the tablet with or without food, according to your preference. However, it's best to give it with food if your dog has a sensitive stomach.
Give the tablet every 30 days, year-round, to maintain protection against fleas, ticks, heartworm disease, and intestinal worms.
Follow your veterinarian's instructions for any specific dosing or administration guidelines.
If you miss a dose, give it as soon as you remember. If it's close to the time for the next dose, skip the missed dose and continue with the regular schedule.
Keep the tablets in the original packaging until ready to use, and store at room temperature.
It's important to note that Simparica Trio is a prescription medication, so you'll need to consult with your veterinarian before starting your dog on this medication. Your veterinarian can also provide more detailed instructions specific to your dog's needs.