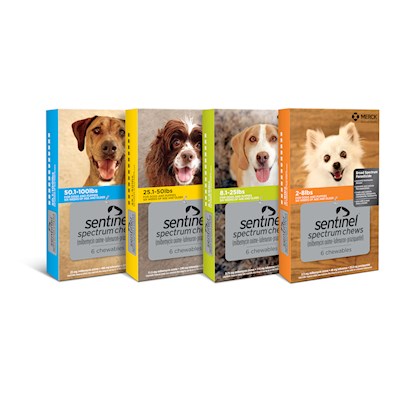 Sentinel Spectrum Chewables for Dogs
Every time a new member signs up, we will donate a FREE membership to a Best Friends adopted animal. Best Friends is America's largest animal sanctuary.
YOUR FUTURE PETCARE NEEDS
Our customers typically save close to $200/yr when purchasing preventatives as members of PetPlus.
PetPlus is a membership plan that gives you wholesale pricing on preventatives, supplements and speciality foods.
With Free Shipping always, no minimums.
Why Become A Member? Additional Ways To Save With PetPlus
Typical Annual Savings "For Your Pet
| | | | | | | | |
| --- | --- | --- | --- | --- | --- | --- | --- |
| | | | | | | | |
| | Typical Annual Cost | $40 | $190 | $95 | $112 | $200 | |
| | PetPlus Annual Cost | $12 | $110 | $55 | $68 | $150 | |
| | Sample Annual PetPlus Savings | $28 | $80 | $40 | $44 | $65 | |
| | | | | | | $242 | |
Typical Annual Cost
PetPlus Annual Cost
Sample Annual PetPlus Savings
We're Here to Help You Every Step of the Way
| | |
| --- | --- |
| Wholesale Prices on Pet Medication & Supplements | |
| Free 24/7 Pet Help provided by whiskerDocs | |
| Wholesale Prices on RX & Premium Foods and Treats | |
| Convenient Medication Pickup Option | |
| Free Delivery on Medication | |
Product Description
Ultimate Guide to Sentinel Spectrum Chewables for Dogs
Meet the Six-in-One Parasite Preventer: Sentinel Spectrum Chewables for Dogs!
Sentinel Spectrum Chewables for Dogs is a prescribed monthly beef-flavored chewable that protects your dogs by preventing, controlling, and killing six dangerous parasites - heartworms, whipworms, hookworms, roundworms, tapeworm, and fleas. Sentinel Spectrum ensures that your pup is in their healthiest condition.
How does Sentinel Spectrum work?
Sentinel Spectrum for Dogs is a medication with three active ingredients - Milbemycin Oxime, Lufenuron, and Praziquantel.
Milbemycin Oxime is a powerful parasiticide and an anthelmintic (i.e., dewormer). It is 100% effective heartworm disease preventative, and also controls three dangerous gastrointestinal worms (i.e., adult roundworms, hookworms, and whipworms) by acting on their nervous system.
Lufenuron is an insecticide and insect growth regulator (IGR). As flea birth control, Lufenuron disrupts the flea cycle both by preventing larvae from reaching adulthood and inhibiting growth within eggs. The development of protein chitin that builds a larval's exoskeleton causes larvae to die once inner organs are exposed to air after hatching.
And finally, the third active ingredient Praziquantel is an anthelmintic that expels anti-parasitic worms like trematodes (e.g, tapeworms) by causing muscular spasms that ultimately kill the parasitic worms. Praziquantel is also an Insect Growth Regulator (IGR) that inhibits newly hatched insect larvae from reaching adulthood or reproducing.
How is Sentinel Spectrum for Dogs administered?
Sentinel Spectrum for Dogs is an oral, once-monthly treatment and protects your dog for the next 30 days. These beef-flavored Sentinel Spectrum's directions are that the chews are to be split into chewable pieces and hidden in food. Make sure that your dog consumes the entire chewable, especially for adequate absorption of Lufenuron.
Sentinel Spectrum chews are used year-round for maximum prevention effectiveness.
Sentinel Spectrum's doses are based on your dog's body weight which then determines the milligram (mg) amount of each active ingredient per month. See the Sentinel Spectrum dosage chart below:
| Dog's Body Weight | Milbemycin Oxime (mg) | Lufenuron (mg) | Praziquantel (mg) |
| --- | --- | --- | --- |
| Sentinel Spectrum 2 - 8 lbs. (Orange) | 2.3 | 46 | 22.8 |
| Sentinel Spectrum 8.1 - 25 lbs. (Green) | 5.75 | 115 | 57 |
| Sentinel Spectrum 25.1 - 50 lbs. (Yellow) | 11.5 | 230 | 114 |
| Sentinel Spectrum 50.1 - 100 lbs. (Blue) | 23 | 460 | 228 |
All Sentinel Spectrum boxes are available in 6 (month) packs and 12 (month) packs.
What dogs should not be treated with Sentinel Spectrum?
Dogs that shouldn't take Sentinel Spectrum are those that are below 6 weeks old or weigh less than 2 pounds; those that take other medication that will have a negative interaction; and those that are already taking an alternate heartworm medication. Breeding, pregnant, and lactating females have not been evaluated.
What is the Sentinel Spectrum for Dogs' side effects of which you should be aware?
Test for heartworm disease before deworming therapy or before using Sentinel Spectrum for Dogs.
Sentinel Spectrum's common negative reactions reported are vomiting, diarrhea, incoordination, lethargy, decreased appetite, itching, hives, convulsions, hypersalivation, and labored breathing. Contact your veterinarian if any of the above or other effects occur after ingesting the Sentinel Spectrum chews.
Frequently Asked Questions
What does the Sentinel Spectrum for dogs reviews say?

Sentinel Spectrum reviews rate 4.5+ out of 5 stars. Most reviewers say that they trust Sentinel Spectrum as their only flea and heartworm prevention treatment for their furry best friend.

How does the medication prevent heartworm (Sentinel Spectrum) in dogs?

Sentinel Spectrum prevents vicious heartworm disease that is transmitted from mosquito bites, especially with their 100% heartworm preventative active ingredient Milbemycin Oxime.

How long does Sentinel Spectrum take to work?

Sentinel Spectrum chew's effective combination begins to work IMMEDIATELY, whether preventing and controlling fleas or as a heartworm prevention formula that distributes through the dog's system and into the dog's body fat.

What is Sentinel Spectrum used for in dogs?

Sentinel Spectrum Chewables for Dogs is a six-in-one oral chew that prevents, controls, and kills internal and external parasites from heartworm to flea. Its active ingredients work together as effective flea birth control, heartworm disease prevention, and assassin for intestinal tapeworms, roundworms, hookworms, and whipworms.

Is Sentinel Spectrum for cats?

Sentinel Spectrum was only manufactured for dogs, and therefore is not for cats. There are a variety of cat equivalents. Look for an effective heartworm preventative called Revolution Plus for Cats, which is a monthly topical solution that treats 6 parasites (i.e., fleas, heartworms, roundworms, hookworms, ticks, and ear mites) in 1 spot-on cream.

What is the difference between Sentinel and Sentinel Spectrum?

Both medications have two active ingredients - Milbemycin Oxime and Lufenuron. Together, they are a 100% effective heartworm disease preventative and acts as a monthly layer of protection against gastrointestinal worms. Sentinel Spectrum adds a third anthelmintic ingredient Praziquantel that ultimately kills tapeworms.

Is Sentinel Spectrum for puppies?

Sentinel Spectrum can be administered to puppies that are at least 6 weeks old and weigh 2 pounds.
Concluding Thoughts
The most important thing that you should know about Sentinel Spectrum is its six-in-one power to protect your dog from internal and external parasites. The medication is popularly used as an effective heartworm disease preventative. Your pup will be in the healthiest, pest-free condition that they can be.
DISCLAIMER: FDA law restricts Sentinel Spectrum Chewable for Dogs only on order or prescription of a licensed veterinarian for the best pet health care advice. Ask your veterinarian or consult with one of our pet care specialists at 1-800-844-1427. This informative article is not meant to substitute for the diagnosis, treatment, and professional advice from your veterinarian or other qualified professionals regarding a medical condition. Ask your veterinarian if it's a good idea to treat all of the animals in your household to control intestinal parasites.
Side Effects & Warnings
IMPORTANT SAFETY INFORMATION: Dogs should be tested for heartworm prior to use. Mild hypersensitivity reactions have been noted in some dogs carrying a high number of circulating microfilariae. Treatment with fewer than 6 monthly doses after the last exposure to mosquitoes may not provide complete heartworm prevention. For complete product information refer to the product insert.
Ingredients
Active ingredients: milbemycin oxime, lufenuron, and praziquantel
Directions
Doses are based on body weight of your dogs. Doses are intended for once monthly treatments.