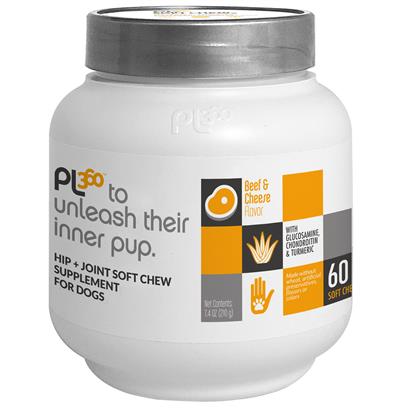 PL360 Hip + Joint Care Soft Chew Supplement for Dogs
Every time a new member signs up, we will donate a FREE membership to a Best Friends adopted animal. Best Friends is America's largest animal sanctuary.
YOUR FUTURE PETCARE NEEDS
Our customers typically save close to $200/yr when purchasing preventatives as members of PetPlus.
PetPlus is a membership plan that gives you wholesale pricing on preventatives, supplements and speciality foods.
With Free Shipping always, no minimums.
Why Become A Member? Additional Ways To Save With PetPlus
Typical Annual Savings "For Your Pet
| | | | | | | | |
| --- | --- | --- | --- | --- | --- | --- | --- |
| | | | | | | | |
| | Typical Annual Cost | $40 | $190 | $95 | $112 | $200 | |
| | PetPlus Annual Cost | $12 | $110 | $55 | $68 | $150 | |
| | Sample Annual PetPlus Savings | $28 | $80 | $40 | $44 | $65 | |
| | | | | | | $242 | |
Typical Annual Cost
PetPlus Annual Cost
Sample Annual PetPlus Savings
We're Here to Help You Every Step of the Way
| | |
| --- | --- |
| Wholesale Prices on Pet Medication & Supplements | |
| Free 24/7 Pet Help provided by whiskerDocs | |
| Wholesale Prices on RX & Premium Foods and Treats | |
| Convenient Medication Pickup Option | |
| Free Delivery on Medication | |
Product Description
Joint Care Soft Chew Dog Supplement
Some dogs may begin to develop stiffness and reduced flexibility in their joints with age, or perhaps they were born with joint issues due to genetics. Thankfully, PL360 Hip and Joint Soft Chew Dog Supplement provide your canine companion with supplemental glucosamine, chondroitin, MSM, and turmeric to help relieve joint stiffness while supporting healthy joints and flexibility. These soft chews also provide nutritional support for healthy bones, tendons and ligaments!
What is Joint Pain?
Joint pain can be an incredibly uncomfortable thing to experience, but it's even worse when you have no idea what to do about it. Glucosamine and chondroitin are supplements that help support healthy joints and flexibility by helping to repair your dog's cartilage. If your dog is experiencing joint pain or stiffness, glucosamine and chondroitin are great ways to support joint health! We also include MSM (which stands for methylsulfonylmethane) in our Hip & Joint Soft Chews as well; MSM helps with collagen production while working to ease inflammation.
Canine Osteoarthritis Symptoms
Osteoarthritis, or wear and tear arthritis, is a common condition that affects older dogs. Symptoms can include limping, stiff joints, loss of flexibility, and limited mobility. While there's no cure for osteoarthritis in dogs, you can treat symptoms with medications or supplements such as PL360 Hip & Joint Soft Chews. This supplement contains MSM to ease inflammation and improve joint flexibility, glucosamine to help promote healthy joint cartilage production, and turmeric to support your dog's gastrointestinal tract and liver function. These features support your dog's overall health while also providing relief from osteoarthritis pain.
What is Glucosamine?
Glucosamine is an essential nutrient for healthy joints and can be found in many products that support joint health. Glucosamine is a building block of cartilage, making it ideal for helping promote healthy joints and flexibility.
What is Chondroitin?
Chondroitin is a nutritional supplement that may aid in joint health. Chondroitin contains glycosaminoglycans (GAGs), which are a major component of cartilage and connective tissue. GAGs are long, sugar-based molecules that assist in lubricating joints and providing structural support to soft tissues throughout your body. As you age, it is common for these GAGs to break down, leading to joint stiffness and pain.
Is My Pet's Joint Pain a Concern?
You may be able to tell that your pet's joints feel achy or stiff. They may limp after exercise, and they might even lick their paws in an attempt to relieve their discomfort. Fortunately, there are natural joint supplements available for pets that contain glucosamine, chondroitin, and turmericall of which have been shown to help with inflammation and pain. A joint supplement like PL360 Hip & Joint Soft Chew can work wonders for your dog! Here are three signs that could indicate it's time to consider giving your furry friend some extra TLC for their joints.
Ingredients
"ACTIVE INGREDIENTS PER 1 SOFT CHEW (3.5g):\r\nGlucosamine HCI (Shellfish Source)……………300mg\r\nChondroitin Sulfate (Porcine Source)………….200mg\r\nMSM (Methyl Sulfonyl Methane)………………..125mg\r\nTurmeric…………………………………..50mg\r\nManganese Ascorbate……………………….. 19.6mg\r\nHyaluronic Acid…………………………….5mg\r\nAlpha Lipoic Acid (ALA)……………………. 5mg\r\nINACTIVE INGREDIENTS: cheese powder, citric acid, fish oil, glycerin, macrogol, magnesium stearate, mixed tocopherols, molasses, rosemary extract,silicon dioxide, sucrose, vegetable fiber, vegetable oil, vegetable shortening, vegetable starch, vegetarian "beef" flavor (derived from yeast)."
Directions
DIRECTIONS FOR USE: Give soft chew directly to your dog.  
See chart to the for the recommended amount. 
DOG SIZE
Less than 24 lbs: 1/2 Chew Daily
25-49 lbs: 1 Chew Daily
50-75 lbs: 2 Chews Daily
76-100 lbs: 3 Chews Daily
101+ lbs: 4 Chews Daily