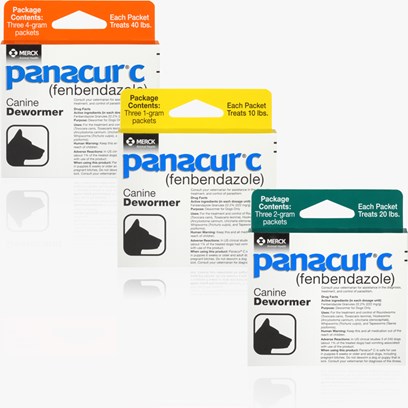 Panacur C - Canine Dewormer
Every time a new member signs up, we will donate a FREE membership to a Best Friends adopted animal. Best Friends is America's largest animal sanctuary.
YOUR FUTURE PETCARE NEEDS
Our customers typically save close to $200/yr when purchasing preventatives as members of PetPlus.
PetPlus is a membership plan that gives you wholesale pricing on preventatives, supplements and speciality foods.
With Free Shipping always, no minimums.
Why Become A Member? Additional Ways To Save With PetPlus
Typical Annual Savings "For Your Pet
| | | | | | | | |
| --- | --- | --- | --- | --- | --- | --- | --- |
| | | | | | | | |
| | Typical Annual Cost | $40 | $190 | $95 | $112 | $200 | |
| | PetPlus Annual Cost | $12 | $110 | $55 | $68 | $150 | |
| | Sample Annual PetPlus Savings | $28 | $80 | $40 | $44 | $65 | |
| | | | | | | $242 | |
Typical Annual Cost
PetPlus Annual Cost
Sample Annual PetPlus Savings
We're Here to Help You Every Step of the Way
| | |
| --- | --- |
| Wholesale Prices on Pet Medication & Supplements | |
| Free 24/7 Pet Help provided by whiskerDocs | |
| Wholesale Prices on RX & Premium Foods and Treats | |
| Convenient Medication Pickup Option | |
| Free Delivery on Medication | |
Product Description
Ultimate Guide To Panacur C - Canine Dewormer
What Is Panacur C - Canine Dewormer?
Panacur C Canine Dewormer is a medicine that is composed of the chemical fenbendazole. This chemical is useful to treat parasitic infestations in dogs. Parasitic infestations are a massive concern in dogs. Dogs are usually dewormed regularly as untreated parasitic infections have the potential to be fatal.
One of the most significant advantages of Panacur C is that it treats a wide variety of parasites. This medicine treats four of the most common worms that are found in dogs. They are tapeworms, hookworms, whipworms, and roundworms. Regular use of Panacur C will ensure that your dog is free from these parasites and live a healthy life.
Why Is Regular Deworming Necessary?
Dogs are an unruly lot! They sniff everything they come across, lick a lot of things because of curiosity, and they touch everything! Dogs use their mouths as their primary means of interacting with their environment. This habit is troublesome because they can pick up a lot of nasties without you realizing it!
Parasites can wreak havoc on your dog's health if left untreated. They can cause diarrhea, vomiting, weight loss, shortness of breath, and coughing. Your dog's butt can feel itchy, and they can hurt themselves trying to scratch it. Worms can also cause nutritional deficiencies and developmental abnormalities. These effects are why you need Panacur C Canine Dewormer for dogs.
How Do I Prevent Worms?
The easiest way to prevent worms is to have your dogs on a regular deworming schedule. The schedule depends on your dog's lifestyle, age, and whether he frequents the outdoors a lot. If your dog is a companion animal, i.e., he usually lives at home and goes out only for walks, then you should deworm your dog at least twice a year for all his adult life.
If you have a rescue, you should speak to your vet about starting a deworming and vaccination schedule. When the dog's past deworming history is unknown, the dog is usually dewormed as soon as possible and then again a fortnight later. If you have other animals in the house, speak to your vet about whether you should deworm them as well.
If your dog is a hunting dog, or if you take your dog hiking or camping a lot, then you need to deworm more regularly with Panacur C CanineDewormer for dogs. Speak to your vet about the deworming schedule you need to follow.
Is the Deworming Schedule the Same for Dogs and Puppies?
Puppies have a much more frequent deworming process than dogs. Puppies first go through the deworming process when they are two weeks old. Next, they are dewormed every fortnight at four, six, and eight weeks old. The second-last leg of the process happens at twelve and sixteen weeks of age.
Finally, puppies get their final two deworming doses at six months of age and again at 12 months. These are general guidelines that are followed. Speak to your vet to figure out the correct Panacur C schedule for your pup!
How Much Should I Give My Dog?
The dosage of any medicine depends on your dog's weight. The dosage is 50mg of Panacur C per kilo of body weight. The guidelines are:
| Dog's Weight | Size of Packet |
| --- | --- |
| 10 lbs | 1g |
| 20 lbs | 2g |
| 30 lbs | 1g + 2g |
| 40 lbs | 4g |
| 50 lbs | 1g + 4g |
| 60 lbs | 2g + 4g |
| 80 lbs | 4g + 4g |
| Over 80 lbs | Ask your vet |
You must continue this medicine for three days, one after the other. You cannot give one dose one day as that will not complete the deworming process. The guidelines mentioned here are daily doses. You have to give your dog this daily dose every day for three days. Do not divide the daily amount into three parts.
It is also imperative that you weigh your dog before you give them any deworming medicine. The effectiveness of Panacur C will depend on whether the right dose is being delivered to the dog with the correct weight. You do not want to risk a low amount as it will not work. Nor do you want to risk a higher dose as it may have adverse effects on your dog.
Are There Any Precautions I Need to Take When Giving Panacur C - Canine Dewormer?
When you give your dog a small medicine like Panacur C, you need to make sure he has all of it. This is a granule that must be mixed thoroughly with food, so your pet must eat all of the food it is mixed with. Please ensure your dog gets a full dose of this medicine. You should also consult your vet before giving this to a dog who is already sick.
Are There Any Side Effects of Panacur C - Canine Dewormer?
Panacur for dogs is made using fenbendazole, an extremely safe medicine. However, 1% of dogs experienced the side effect of vomiting during clinical trials. Please contact your veterinarian in case of vomiting. If this happened close to when your dog had Panacur C, then your vet will let you know whether or not you need to repeat the dose.
Frequently Asked Questions
How Should I Store Panacur C?

You should store Panacur C Canine Dewormer between 20-25C. Its effectiveness may be hurt if stored at higher temperatures. If you live in a sweltering climate, you can keep this in an air-conditioned room.

Can I Use This for My Cat?

Panacur C is safe for use in only dogs. You cannot give this to your cat. Speak to your vet about feline dewormers if your cat needs to be dewormed. If your cat has eaten part of this medicine, contact your cat's vet immediately.

Can I Give This to My Puppy?

You can safely give Panacur C to puppies who are over six weeks old. You can even give Panacur to pregnant dogs. However, it is not meant for use in puppies who are less than six weeks old.

Can I Give This to Only One of My Dogs?

If you have multiple dogs or animals in the house, it is suggested that you deworm all the animals either simultaneously or in very close proximity. If one of your dogs has worms, it is likely to have spread to other animals. Many households deworm every animal and human member in the house on the same day!

My Dog Is Between Weights on the Dosage Guidelines. What Dose Should I Use?

It is generally acceptable to use the next higher dose if your dog is between weights. However, this also depends on your dog, their health, and their lifestyle. It is best to speak to your vet to guide you if you have any doubts.
Side Effects & Warnings
IMPORTANT SAFETY INFORMATION: Consult your veterinarian for assistance in the diagnosis, treatment and control of parasitism. Dogs over six months of age should be dewormed at least twice a year with PANACUR Granules 22.2%. For puppies younger than six months, see product label. In rare instances, nausea, vomiting and loose stools are observed as side effects of fenbendazole. Approximately 1% of dogs had vomiting associated with the use of this product.
Do not administer the medication on animals allergic to it or benzimidazole carbamates. Avoid feeding rodents, raw meat or fish to the pet. Ensure that the pet is clean to avoid infection and re-infection. Dispose of pet stools daily, and get rid of fleas on the pet and in the household. The medication is not effective as a one-time dose. For best results, continue therapy for several consecutive days.
Ingredients
Fenbendazole
Fenbendazole belongs to the anthelmintics class of drugs and is chiefly indicated for the prevention of gastrointestinal parasites in animals. It is effective for the treatment of certain types of hookworm, whipworm, roundworm and tapeworm infections in dogs. The active ingredient in the medication, fenbendazole, works by inhibiting the energy metabolism of the disease-causing parasite. The anthelminthic property of the component provides fast remedy to gastrointestinal and respiratory tract infections. Panacur is also used as an ovicidal to kill nematode eggs. 
Fenbendazole (Panacur) is FDA approved for use in dogs only. The medication is available over the counter as granules in packs of 1 gm, 2 gm and 4 gm. Mix the granules in the pet's meal. Calculating the exact body weight of the pets is necessary before administering the medicine. The standard dosage for dogs and cats is 25 mg/lbs (50 mg/kg) daily for 3 consecutive days. The duration of administration is based on the clinical condition of the pet and the development of side effects, if any. It is better to administer Panacur Paste 10% to puppies and kittens, especially those, which have not been weaned. It is available as an over the counter product containing 5 oral syringes/box.
Directions
Use as directed by veterinarian. Dosage varies due to the dog's exact body weight. Packets of granules should be mixed with the pet's food and administered for several consecutive days for best results. Depending on the dog's health condition and reaction, Panacur may or may not be used longer than three days.
To avoid re-infection, it is important to keep the pet clean and free from fleas and other pests.
Most adult dogs should be de-wormed at least twice a year.
| Dog Weight | Packet Size* |
| --- | --- |
| 10 pounds | 1 gram |
| 20 pounds | 2 gram |
| 30 pounds | 1 gram + 2 gram |
| 40 pounds | 4 gram |
| 50 pounds | 1 gram + 4 gram |
| 60 pounds | 2 gram + 4 gram |
| 80 pounds | Two 4 gram |
| Over 80 pounds | Use combinations to obtain recommended daily dose |
*Packet size is the daily dose. The dog must be treated with this dose for 3 days in a row.