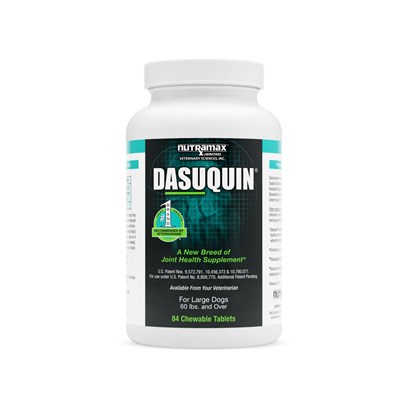 Nutramax Dasuquin Joint Health Chewable Tablet Supplement for Dogs
Every time a new member signs up, we will donate a FREE membership to a Best Friends adopted animal. Best Friends is America's largest animal sanctuary.
YOUR FUTURE PETCARE NEEDS
Our customers typically save close to $200/yr when purchasing preventatives as members of PetPlus.
PetPlus is a membership plan that gives you wholesale pricing on preventatives, supplements and speciality foods.
With Free Shipping always, no minimums.
Why Become A Member? Additional Ways To Save With PetPlus
Typical Annual Savings "For Your Pet
| | | | | | | | |
| --- | --- | --- | --- | --- | --- | --- | --- |
| | | | | | | | |
| | Typical Annual Cost | $40 | $190 | $95 | $112 | $200 | |
| | PetPlus Annual Cost | $12 | $110 | $55 | $68 | $150 | |
| | Sample Annual PetPlus Savings | $28 | $80 | $40 | $44 | $65 | |
| | | | | | | $242 | |
Typical Annual Cost
PetPlus Annual Cost
Sample Annual PetPlus Savings
We're Here to Help You Every Step of the Way
| | |
| --- | --- |
| Wholesale Prices on Pet Medication & Supplements | |
| Free 24/7 Pet Help provided by whiskerDocs | |
| Wholesale Prices on RX & Premium Foods and Treats | |
| Convenient Medication Pickup Option | |
| Free Delivery on Medication | |
Product Description
Ultimate Guide to Dasuquin for Dogs
Meet the Protector and Re-Producer of Healthy Joints: Dasuquin for Dogs!
Dasuquin (Nutramax) is the #1 veterinarian-recommended, non-prescription medical supplement for dog joint health. Dasuquin is a daily oral chew that prevents cartilage breakdown to ensure that your furry friend stays active and mobile. Non-prescribed Dasuquin for Dogs is a new breed to improve your dog's quality of life.
What are the common signs that your pet should start using Dasuquin?
Common signs are demonstrative struggles in the performance of tasks that came easy before, such as standing up from a seated position, lethargy in walks, or difficulty climbing stairs.
Dogs with painful arthritis, osteoporosis, or hip dysplasia can be found especially in aging and senior dogs.
How does Dasuquin for Dogs work?
The nutritional supplement contains a comprehensive formula that aids the dog's health:
Joint health and comfort are derived from Glucosamine Hydrochloride (a cushion surrounding the joints), Sodium Chondroitin Sulfate (produces and rebuilds natural cartilage), Avocado/Soybean Unsaponifiables (a vegetable extract with avocado oil and soybean oil that both protects cartilage breakdown from unhealthy enzymes and regenerates connective tissue production), and Methylsulfonylmethane (treats animal arthritis and relieves pain and swelling).
Basic ingredients in pet vitamin supplements are Microcrystalline Cellulose (gives it texture), Magnesium Stearate (flow agent or anti-caking agent), Mixed Tocopherols (extends the shelf life), and Silicon Dioxide is a basic ingredient in pet vitamin supplements.
Basic health comes from Dextrose (used for low blood sugar), Dried Brewer's Yeast (protein, amino acids, B vitamins maintain the body's essential parts), Soy Protein Isolate (lower blood cholesterol and helps with cancer treatment), and Tea (active ingredient catechin inhibits carcinogens, protects the liver and intestines, and protects against oxidative damage).
The ingredient combination and comprehensive formula make for a daily chewable treat that protects and rebuilds your dog's healthy joints.
How is Dasquin in Dogs administered?
The liver-flavored chewable tablet is administered orally and once a day. Dasuquin tablets can be broken up and eaten with food. Dogs should double their daily dosage for the first 4 - 6 weeks. However dogs under 10 lbs. should keep the normal dosage.
The supplement bottles either come in 84 or 150 count and either come with or without the addition of MSM (methylsulfonylmethane). The addition of MSM helps to relieve pain and swelling.
See the dosage chart below for what supplements are available, depending on the dog's body weight:
| Size of Dog | Body Weight | Daily Dosage |
| --- | --- | --- |
| Small to Medium | 10 - 29 lbs. | tablets |
| Medium | 30 - 59 lbs. | One tablet |
| Large | 60 lbs. and over | One tablet |
What are the potential side effects of which you should be aware?
There are no reported side effects!
Frequently Asked Questions
What is the difference between Dasuquin and Dasuquin Advanced?

Dasuquin is non-prescription and Dasuquin Advanced is only available through a veterinarian prescription. They have the same ingredients and same results helping to support and protect your dog's joint health.

What is Dasuquin for Dogs?

Dasuquin is a natural and nutritional joint supplement for canines with a comprehensive formula that is meant to maintain optimal joint support. Its active ingredients are protectors of dog joints or preventers of cartilage breakdown or rebuilders of joint tissue. Together, they allow pets to enjoy a healthy and active lifestyle with no adverse effects.

What is the Dasuquin for Dogs dosage for small, medium, and large dogs?

Whether your dog is small (10 lbs.) to large (60 lbs.+), non-prescription Dasuquin for Dogs daily dosage depends on your dog's body weight and if the dog is within the first four to six weeks of administration. See the dosage chart above for more detailed dosage information.

What are the ingredients in Dasuquin for Dogs?

Dasuquin contains basic nutritional pet supplement ingredients, besides the additions of glucosamine (cushion), chondroitin sulfate (natural tissue rebuilders), avocado and soybean unsaponifiables (blocker and regenerator), and occasionally methylsulfonylmethane (pain and inflammation reliever) to maintain optimal joint health.

What do the Dasuquin for Dogs reviews say?

Dasuquin for Dogs reviews rate 4.5+ out of 5 stars. Most reviewers say that Dasuquin is the best glucosamine supplement that they've ever used, that it is effective and works amazingly well, and keeps their pets healthy!

Is Dasquin for cats?

Dasuquin for Cats is available in a sprinkle capsule with tasty natural chicken and tuna flavors.
Concluding Thoughts
The most important thing that you should know about Dasuquin for Dogs is that it the #1 medical supplement for pet's optimal joint health. Ensure that your dog enjoys a healthy activity and mobility for their entire lifetime.
DISCLAIMER: FDA law restricts Dasuquin for Dogs only on order or prescription of a licensed veterinarian for the best pet health care advice. Ask your veterinarian or consult with one of our pet care specialists at 1-800-844-1427. This informative article is not meant to substitute for the diagnosis, treatment, and professional advice from your veterinarian or other qualified professionals regarding a medical condition. Ask your veterinarian if it's a good idea to treat all of the animals in your household to control a home flea infestation.
Ingredients
See Label Images
Directions
Please refer to directions on package for full administration instructions.