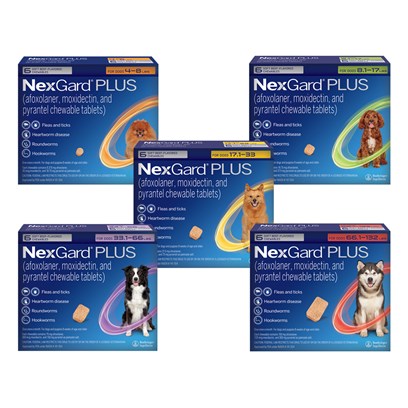 NexGard PLUS Chewables for Dogs
Every time a new member signs up, we will donate a FREE membership to a Best Friends adopted animal. Best Friends is America's largest animal sanctuary.
YOUR FUTURE PETCARE NEEDS
Our customers typically save close to $200/yr when purchasing preventatives as members of PetPlus.
PetPlus is a membership plan that gives you wholesale pricing on preventatives, supplements and speciality foods.
With Free Shipping always, no minimums.
Why Become A Member? Additional Ways To Save With PetPlus
Typical Annual Savings "For Your Pet
| | | | | | | | |
| --- | --- | --- | --- | --- | --- | --- | --- |
| | | | | | | | |
| | Typical Annual Cost | $40 | $190 | $95 | $112 | $200 | |
| | PetPlus Annual Cost | $12 | $110 | $55 | $68 | $150 | |
| | Sample Annual PetPlus Savings | $28 | $80 | $40 | $44 | $65 | |
| | | | | | | $242 | |
Typical Annual Cost
PetPlus Annual Cost
Sample Annual PetPlus Savings
We're Here to Help You Every Step of the Way
| | |
| --- | --- |
| Wholesale Prices on Pet Medication & Supplements | |
| Free 24/7 Pet Help provided by whiskerDocs | |
| Wholesale Prices on RX & Premium Foods and Treats | |
| Convenient Medication Pickup Option | |
| Free Delivery on Medication | |
Product Description
NexGard PLUS (afoxolaner, moxidectin, and pyrantel chewable tablets) is the one you want for one-and-done monthly parasite protection for your dog. It gives you the power to protect your dog from fleas and ticks, PLUS heartworm disease, roundworms, and hookworms all in a delicious, beef-flavored, soft chew. NexGard PLUS chews are safe and approved for puppies as young as 8 weeks old. From the maker of #1 veterinarian-recommended HEARTGARD Plus (ivermectin/pyrantel)1 chews, easy-to-give NexGard PLUS chews provide convenient, monthly parasite protection for the dog you love. Use with caution in dogs with a history of seizures or neurological disorders.
Dogs need parasite protection year-round. NexGard PLUS chews are designed for monthly dosing that's a delight for your dog and never a chore month after month.
Fleas pose an ever-present risk for dogs in many parts of the country. While the risk of flea infestations may be higher during warmer months, they can occur at any point throughout the year. NexGard PLUS chews kill adult fleas fast, before they can lay eggs, for a full month. NexGard PLUS chews are also approved to kill four species of ticks the ticks most commonly found on dogs in the US2
Heartworm disease is a serious condition that can cause permanent damage even before it can be diagnosed and just one bite from an infected mosquito could put your pet at risk for this potentially deadly disease. Cases of heartworm disease have been reported in all 50 states in both indoor and outdoor pets.3 The American Heartworm Society recommends that all pets receive heartworm disease preventives year-round. Ask your veterinarian about preventing heartworm disease in your dogs with monthly NexGard PLUS chews. All dogs should be tested for heartworms prior to starting a heartworm disease preventive.
With NexGard PLUS chews, you're protecting your dog from fleas and ticks, PLUS heartworm disease, 3 species of hookworms, and 2 species of roundworms all with the tasty beef-flavored chew that's designed for monthly dosing that's a delight for your dogs.
1. Data on file at Boehringer Ingelheim
2. Saleh MN, Sundstrom KD, Duncan KT, et al. Show us your ticks: a survey of ticks infesting dogs and cats across the USA. Parasites & Vectors. 2019;12(595). https://doi.org/10.1186/s13071-019-3847-3.
3. Heartworm Parasite Prevalence Maps. Companion Animal Parasite Council. https://capcvet.org/maps/#/2023/all-year/heartworm-canine/dog/united-states. Accessed May 22, 2023.
Side Effects & Warnings
Not for use in humans. Keep this and all drugs out of the reach of children. In case of accidental ingestion, contact a physician for treatment advice. Keep NexGard® PLUS chews in a secure location out of the reach of dogs, cats, and other animals to prevent accidental ingestion or overdose.
The most frequently reported adverse reactions include vomiting, itching, lethargy, diarrhea, and lack of appetite.
Afoxolaner, one of the ingredients in NexGard® PLUS chews, is a member of the isoxazoline class. This class has been associated with neurologic adverse reactions including tremors, ataxia, and seizures. Seizures have been reported in dogs receiving isoxazoline class drugs, even in dogs without a history of seizures. Use with caution in dogs with a history of seizures or neurologic disorders.
Treatment with fewer than six monthly doses after the last exposure to mosquitoes has not been evaluated and may not provide complete heartworm prevention. Prior to administration of NexGard PLUS chews, dogs should be tested for existing heartworm infection. At the discretion of the veterinarian, infected dogs should be treated with an adulticide to remove adult heartworms. NexGard PLUS chews are not effective against adult D. immitis.
The safe use of NexGard PLUS chews in breeding, pregnant, or lactating dogs has not been evaluated.
Ingredients
Active Ingredients: Afoxolaner, Moxidectin, Pyrantel
Directions
NexGard® PLUS chews can be administered with or without food. Care should be taken to ensure that the dog consumes the complete dose, and that part of the dose is not lost or refused. If a dose is missed, administer a NexGard PLUS chew and resume a monthly dosing schedule. Please review full prescribing information.