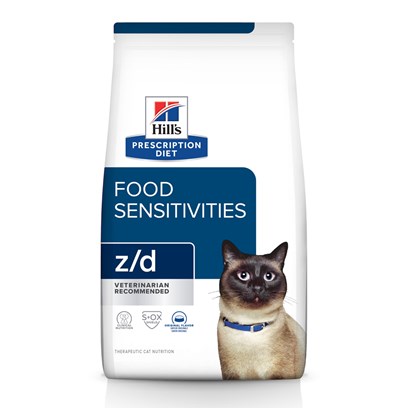 Hill's Prescription Diet z/d Skin/Food Sensitivities Dry Cat Food
Every time a new member signs up, we will donate a FREE membership to a Best Friends adopted animal. Best Friends is America's largest animal sanctuary.
YOUR FUTURE PETCARE NEEDS
Our customers typically save close to $200/yr when purchasing preventatives as members of PetPlus.
PetPlus is a membership plan that gives you wholesale pricing on preventatives, supplements and speciality foods.
With Free Shipping always, no minimums.
Why Become A Member? Additional Ways To Save With PetPlus
Typical Annual Savings "For Your Pet
| | | | | | | | |
| --- | --- | --- | --- | --- | --- | --- | --- |
| | | | | | | | |
| | Typical Annual Cost | $40 | $190 | $95 | $112 | $200 | |
| | PetPlus Annual Cost | $12 | $110 | $55 | $68 | $150 | |
| | Sample Annual PetPlus Savings | $28 | $80 | $40 | $44 | $65 | |
| | | | | | | $242 | |
Typical Annual Cost
PetPlus Annual Cost
Sample Annual PetPlus Savings
We're Here to Help You Every Step of the Way
| | |
| --- | --- |
| Wholesale Prices on Pet Medication & Supplements | |
| Free 24/7 Pet Help provided by whiskerDocs | |
| Wholesale Prices on RX & Premium Foods and Treats | |
| Convenient Medication Pickup Option | |
| Free Delivery on Medication | |
Product Description
Complete Overview of Hill's Prescription Diet Z/D Skin/Food Sensitivities Dry Cat Food
Meet the Ultimate Cat Food for Sensitive Cats!
Skin and food sensitivities are extremely hard to manage without a change in diet. Even so, it is difficult to pinpoint exactly what your cat is getting an allergic reaction to. It can lead to a host of symptoms and issues that all stem from one problem - skin and food sensitivities.
Hill's Prescription Diet z/d Skin/Food Sensitivities Dry cat food is made to combat these issues with a unique formula that cuts down on any confusion regarding your cat's diet. This food is made with a single source of protein and a single source of carbohydrates. This way, you know what your cat is eating and lessen the risk of an adverse reaction.
The protein used in Hill's Prescription Diet cat food is hydrolyzed protein. The process of hydrolyzation breaks down the protein into amino acids with a low molecular weight. Hydrolyzed protein has a significantly reduced chance of being recognized as a protein by the body, and thus, your cat is likely to not react to the protein at all.
Does This Contain Soy Protein? What About Other Allergens Like Artificial Colors?
No, Hill's Prescription Diet cat food doesn't contain any soy protein. This food is also made without any lactose, as that is a common allergen in cats and dogs. The diet is a highly palatable kibble, and most cats enjoy the taste. And since your cat is likely to not get any allergic reaction from this, this food is more likely to be accepted by your cat.
To ensure that your cat is at the least risk of triggering an allergic reaction, Hill's hydrolyzed protein cat food is also made entirely without artificial colors or flavors. Synthetic dyes and flavors can trigger reactions and are often overlooked as sources of allergens.
Food and skin sensitivities often leave cats with recurrent infections that deal a blow to their immunity. Hill's hydrolyzed protein cat food also contains a blend of vitamins and minerals that boost your cat's overall health and immunity as well.
My Cat Has Lost His Appetite, and His Coat Looks Dull. Does This Help With Those Problems?
One of the symptoms of food sensitivities is gastrointestinal distress. Your cat can lose their appetite, feel nauseous, and feel discomfort after eating food. Many cats lose their appetite because their regular food is making them feel sick.
When you put your cat on Hill's single protein cat food, these symptoms will be reduced, and you might notice an increase in appetite! This cat food is also made with a healthy amount of natural fiber, essential fatty acids, and lots of vitamin E.
The fiber in Hill's hydrolyzed protein cat food helps minimize the gastrointestinal distress that cats with food sensitivities often face. The essential fatty acids and vitamin E help repair and fortify the skin barrier and nourish the skin and coat.
If your cat has been facing skin issues like rashes and coat issues like a dull or thinning coat, these ingredients will help reverse the damage done.
How Much Should I Give My Cat?
The general guidelines for feeding your cat Hill's Prescription Diet cat food is as follows:
Your Cat's Weight
Amount per Day
6 lbs
40g
8 lbs
55g
10 lbs
70g
12 lbs
85g
14 lbs
90g
16 lbs
90g
18 lbs
110g
These amounts are given in grams as grams are a more accurate measurement. Please note that these amounts are to be given daily. You should not give these amounts twice a day as you will risk your cat developing obesity.
You should also make sure you transition your cat to this food over at least a week. Standard protocol is to start substituting Hill's hydrolyzed protein cat food for 25% of your cat's meal at first. Then, increase in 25% increments over the next few days. Please be patient and take as long as your cat needs to adjust to this new food.
Are There Any Side Effects of This Cat Food?
Hill's Prescription Diet z/d Skin/Food Sensitivities Dry cat food is a nutritionally complete and safe cat food. There are no side effects of eating this cat food. However, you should check if your cat is allergic to any ingredients whenever you give your cat food. If your cat is allergic is something in the ingredients list, speak to your vet.
Frequently Asked Questions
What Is the Difference Between Hill's Science Diet and Prescription Diet?
Both Science Diet and Prescription Diet are specialized pet food brands developed by Hill's Pet Nutrition. Pet foods belonging to Hill's Science Diet brand are formulated to fulfill the nutritional requirements of healthy pets during various stages of their life. You can procure Hill's Science Diet pet food through a licensed veterinarian, as well as at pet specialty stores and grooming facilities.
On the other hand, Hill's Prescription Diet brand pet foods are formulated to address the nutritional needs of pets with specific medical conditions, such as food sensitivities and allergies. For instance, Hill's Prescription Diet z/d Skin/Food Sensitivities Dry Cat Food is made using hydrolyzed proteins to prevent food allergies and ease digestion.
Unlike Hill's Science Diet, Prescription Diet brand pet foods are only available through licensed veterinarians.
How Do You Know If Your Cat Is Allergic to Their Food?
The best way to tell whether your cat is prone to skin and food sensitivities is to keep an eye out for symptoms of food allergy and intolerance. Common symptoms of food allergies in cats include:
Skin problems, such as redness, rashes, itchiness, wounds, and bald spots
Gastrointestinal problems, such as loss of appetite, diarrhea, vomiting, bloating, and nausea
Respiratory issues, such as coughing, wheezing, and sneezing
Chronic ear infection
Developmental delays in young cats
Is Hills Cat Food Hypoallergenic?
Hill's z/d Cat Food is formulated to prevent feline food allergies. Being a hypoallergenic food, it's composed of a single carbohydrate source and a single protein source. That helps you easily determine whether your cat's food is triggering an allergic reaction. Also, it's formulated to eliminate food-related causes of skin and gastrointestinal issues.
Unlike traditional dry cat food, Hill's Prescription Diet z/d Cat Food contains hydrolyzed proteins. These are smaller, low molecular weight peptides obtained by breaking longer chains in amino acids. It makes hydrolyzed proteins better suited for passing through your cat's body without being detected by the immune system.
Also, Hill's Cat Food contains essential minerals and vitamins that strengthen your cat's immunity and overall health. It's made using completely natural flavors and colors to further eliminate the risk of allergies. Also, it prevents skin irritation and promotes a healthy skin barrier.
Is Hill's Science Diet Safe for Cats?
Hill's Science Diet is developed based on research conducted by veterinarians, pet nutritionists, and other professionals. Its scientific formulation provides biology-based nutrition to cats of different age groups. All the ingredients are carefully sourced and tested to ensure that they're safe for consumption. Nevertheless, it's a good idea to consult your vet before introducing your cat to Hill's Science Diet.
What Is the Most Common Food Allergy in Cats?
The most common food allergies in cats are caused by beef, fish, and dairy products. Artificial colors and flavors present in dry cat food can also trigger allergic reactions. Watch out for signs of skin irritation/inflammation and gastrointestinal distress to understand whether your cat has food sensitivities.
How Do I Know If My Cat Is Allergic to His Food?
Food allergies in cats are difficult to diagnose due to the absence of proper tests. Also, the symptoms of food allergy often overlap with those of other medical conditions. While it's essential to watch out for nausea, vomiting, skin inflammation, and other signs of an allergic reaction, you must consult a vet. Once they rule out other medical disorders, the vet will put your cat on an elimination diet to identify the specific foods that trigger it to identify the ingredients that trigger his allergies.
What Are Three Symptoms of a Food Allergy?
The most common symptoms of food allergy in cats are:
Skin irritation and inflammation
Dull or thinning coat
Gastrointestinal distress
You should, however, watch out for other signs, such as recurring ear infections and respiratory problems.
How Do You Treat Allergic Dermatitis in Cats?
Treatment of feline allergic dermatitis depends on its underlying cause. While anti-inflammatory drugs, such as corticosteroids, and antihistamines alleviate the symptoms, they don't provide a permanent cure. The best approach is to consult your vet and let them identify the root cause of the allergy.
What Is the One Meat You Should Never Feed Your Cat?
Cats are inherently meat eaters, which means they need protein from meat for proper physical development and immunity. From beef and chicken to turkey and deli meats - you can feed different types of cooked meat to your cat. Raw meat, however, is a strict no-no because it contains harmful bacteria and could be difficult to digest.
How Long Does It Take for Food Allergies to Go Away in Cats?
Gastrointestinal symptoms of food allergy start improving within 2 to 4 of starting a veterinarian-prescribed diet and treatment. Skin irritation and coat will take longer to improve. If you're trying a new diet to treat your cat's food allergy, you'll need to wait for at least 12 weeks before you can determine whether it's working.
Ingredients
Brewers Rice, Hydrolyzed Chicken Liver, Rice Protein Concentrate, Powdered Cellulose, Soybean Oil, Coconut Oil, Chicken Liver Flavor, Calcium Carbonate, Lactic Acid, Potassium Chloride, Calcium Sulfate, Glyceryl Monostearate, Dicalcium Phosphate, L-Threonine, DL-Methionine, L-Lysine, Choline Chloride, vitamins (Vitamin E Supplement, L-Ascorbyl-2-Polyphosphate (source of Vitamin C), Niacin Supplement, Thiamine Mononitrate, Calcium Pantothenate, Vitamin A Supplement, Pyridoxine Hydrochloride, Biotin, Riboflavin Supplement, Vitamin B12 Supplement, Folic Acid, Vitamin D3 Supplement), Taurine, Iodized Salt, Potassium Citrate, L-Tryptophan, minerals (Ferrous Sulfate, Zinc Oxide, Copper Sulfate, Manganous Oxide, Calcium Iodate, Sodium Selenite), Mixed Tocopherols for freshness, Natural Flavors, Beta-Carotene.
Directions
Adjust feeding amounts as necessary to maintain optimal weight. If you are unsure, ask your veterinarian. For best results & safety practices: Gradually transition to your pets new food over a 7 day period. Exclusively feed the recommended Prescription Diet dry food, canned food & treats. Keep fresh water available at all times. Have your veterinarian monitor your pets condition.

A gradual transition to a new pet food is important to avoid digestive upset. To transition, mix your pet's current food with the new food. Over 7 days, gradually decrease the amount of the current pet food while increasing the amount of new pet food. In some cases, your veterinarian may recommend no transition or a shorter transition time.