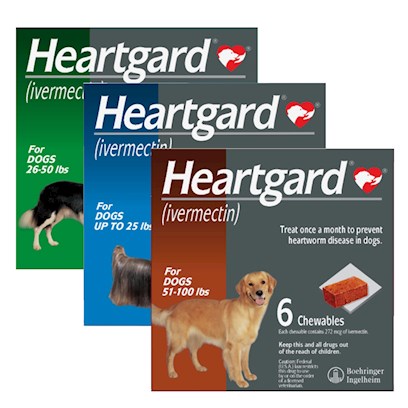 Heartgard Regular for Dogs
Every time a new member signs up, we will donate a FREE membership to a Best Friends adopted animal. Best Friends is America's largest animal sanctuary.
YOUR FUTURE PETCARE NEEDS
Our customers typically save close to $200/yr when purchasing preventatives as members of PetPlus.
PetPlus is a membership plan that gives you wholesale pricing on preventatives, supplements and speciality foods.
With Free Shipping always, no minimums.
Why Become A Member? Additional Ways To Save With PetPlus
Typical Annual Savings "For Your Pet
| | | | | | | | |
| --- | --- | --- | --- | --- | --- | --- | --- |
| | | | | | | | |
| | Typical Annual Cost | $40 | $190 | $95 | $112 | $200 | |
| | PetPlus Annual Cost | $12 | $110 | $55 | $68 | $150 | |
| | Sample Annual PetPlus Savings | $28 | $80 | $40 | $44 | $65 | |
| | | | | | | $242 | |
Typical Annual Cost
PetPlus Annual Cost
Sample Annual PetPlus Savings
We're Here to Help You Every Step of the Way
| | |
| --- | --- |
| Wholesale Prices on Pet Medication & Supplements | |
| Free 24/7 Pet Help provided by whiskerDocs | |
| Wholesale Prices on RX & Premium Foods and Treats | |
| Convenient Medication Pickup Option | |
| Free Delivery on Medication | |
Product Description
Your Complete Guide To Heartgard Regular for Dogs
What Is Heartgard Regular for Dogs?
Heartworm is one of the most overlooked yet potentially fatal worm infestations in dogs. Because it is not well known, many dog owners overlook protecting their dogs against this deadly infection. Heartgard Regular for Dogs makes it easy for you to keep your dog safe, healthy, and heartworm free!
What Is Heartgard Regular for Dogs?
Heartworms are a parasite that is transmitted only via mosquitoes. The mosquitoes acquire the larva or eggs of the heartworm by feeding off of an infected animal. The larva or eggs are then delivered to other animals as the mosquito travels, while the worm hatches in your dog's body and infects them.
The young heartworms travel to your dog's heart and typically set up residence on the right side of the heart. They take as long as six months to reach adult size and can live in animals for as long as seven years. They multiply quite quickly, reaching numbers in the hundreds in as little as a year as they continuously reproduce.
Most Canidae are susceptible to heartworm infestations. This includes dogs, foxes, wolves, and coyotes. However, other mammals like cats and ferrets can carry or be infected with heartworm. The inflammation caused by these worms can damage an animal's heart, arteries, and lungs.
What Are the Signs That My Dog Has Heartworms?
Heartworm infections are divided into four classes or categories. The first stage of the condition typically has no external symptoms except a slight cough in some cases.
In the second stage or class two of the infection, your dog will exhibit a mild intolerance for exercise while the mild cough becomes more persistent.
The third stage of the infection is marked by an increase in the intolerance for exercise. Their pulse becomes weaker, their appetites decrease, you can see a marked loss in weight, their stomachs may be distended and swollen, and you will be able to hear abnormal lung sounds.
The final stage of the infection, or a class four infection, is known as caval syndrome. It is a potentially fatal situation as the cardiovascular system collapses. Your dog will exhibit pale gums, their urine will be coffee-colored, their breathing will be labored, and they can suffer multiple organ failure and death.
How Does Heartgard Regular for Dogs Help?
Heartgard Regular for Dogs prevents any of these symptoms from showing up on your dog by preventing heartworm infestations from the start. Heartgard Regular for Dogs is a monthly medicine that you can give to your dog so that they never have to face a heartworm infestation in their life.
If you live in an area frequented by both mosquitoes and wild mammals, you should give your pet Heartgard Regular for Dogs once a month to be on the safe side. Heartworm treatment is expensive and very painful and can be dangerous for your dog. This is why most vets recommend preventative measures instead.
Is There Any Heartgard Regular for Dogs Side Effects I Should Know?
Heartgard Regular for Dogs is composed of Ivermectin, which works by paralyzing then killed worms. After ingesting this drug, your dog may suffer from vomiting, lethargy, lack of an appetite, excessive drooling, pupil dilation, and a slow heartbeat.
In rare cases, your dog may be unable to stand, disoriented, suffer from sudden blindness, and may suffer from trembling or seizures. In case this happens, you need to contact your vet immediately.
Are There Any Precautions I Should Take When Giving My Dog Heartgard Regular for Dogs?
You should give Heartgard Regular for Dogs on a full stomach or after meals to avoid gastric distress and vomiting. Please contact your vet if your dog vomits after having this medicine to ask whether it is safe to give your dog another dose or not. Additionally, some dog breeds are genetically predisposed to reacting to Ivermectin.
Australian Shepherds, Border Collies, Collies, English Sheepdogs, German Shepherds, Longhaired Whippets, Miniature American Shepherds, Old English Sheepdogs, Shetland Sheepdogs, Silken Windhounds, Skye Terriers, and Working Collies, are all susceptible to Ivermectin sensitivity.
If you have a mixed breed dog who has some herding-dog ancestry, your dog might have inherited the gene mutation that makes these breeds oversensitive to Ivermectin. You should speak to your vet about your dog's lineage before administering this drug.
Frequently Asked Questions
Can I Give This to My Cat?

You should not give medicine meant for dogs to your cat. Not all drugs safe for dogs are safe for cats. Additionally, cats need much lower dosages because of their smaller size, so you risk overdosing your cat. Please ask your vet about heartworm medicine for your cat.

Does This Medication Need a Prescription?

This is a prescription drug, so you cannot get Heartgard for dogs without a prescription. Your dog needs to have this under medical supervision as the potential for adverse effects is present.

I Don't Know if My Rescue Dog Has Any Herding Breed Mixed in Him. Is This Drug Safe for My Dog?

If you are unsure of your dog's ancestry, you should speak to your vet about checking for the genetic mutation that makes these breeds sensitive to Ivermectin. You could opt for DNA analysis of your dog for your peace of mind.

Can I Skip a Dose of This Medicine?

Your vet will outline a schedule for you to give your dog Heartgard Regular for Dogs. You should strictly stick to this schedule and ensure that you don't miss a dose. Heartworms can multiply very fast, and you don't want to risk exposing your dog to an infestation.

How Should I Store This Medicine?

You should store Heartgard Regular for Dogs in a cool dark place away from direct sunlight and moisture. Make sure this medicine isn't exposed to extremes of temperature. Additionally, ensure Heartgard Regular for Dogs isn't kept in any area accessible for your pets or your children.
Side Effects & Warnings
Side effects of taking heartworm preventatives are vomiting, diarrhea, general weakness, and seizures. Heartgard for Dogs should be kept out of reach of children.
Certain dogs cannot handle Ivermectin and can experience Ivermectin toxicity. While the doses of Ivermectin are extremely low in preventative heartworm medications like Heartgard, certain breeds are predisposed to Ivermectin toxicity and should be under strict veterinary supervision if they do take Heartgard. Susceptible breeds include Collie, Australian Shepherd, Shetland Sheepdog, English Sheepdog, Old English Sheepdog, German Shepherd, Longhaired Whippet, Silken Windhound, and Skye Terrier. 
Ingredients
Ivermectin
Ivermectin, the active ingredient in Heartgard for dogs, is used to prevent heartworms in dogs. Ivermectin attacks the central nervous system of juvenile heartworms, killing them, and preventing any serious effects of heartworms for your dog. The low doses of Ivermectin in heartworm prevention medications cannot treat heartworms once your dog already has them, but they are completely effective in prevention. 
Directions
Heartgard Regular Chewables should be taken orally once a month to effectively prevent heartworms. Heartgard chewable tablets should be chewed, not swallowed whole.