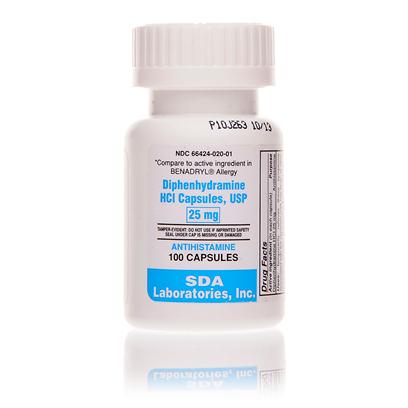 Diphenhydramine Rx (Generic Benadryl) 25mg
Typical Consumer
Price
$

3.41
PETPLUS
Member Price Cannot be combined with other offers
Every time a new member signs up, we will donate a FREE membership to a Best Friends adopted animal. Best Friends is America's largest animal sanctuary.
YOUR FUTURE PETCARE NEEDS
Our customers typically save close to $200/yr when purchasing preventatives as members of PetPlus.
PetPlus is a membership plan that gives you wholesale pricing on preventatives, supplements and speciality foods.
With Free Shipping always, no minimums.
Why Become A Member? Additional Ways To Save With PetPlus
Typical Annual Savings "For Your Pet
| | | | | | | | |
| --- | --- | --- | --- | --- | --- | --- | --- |
| | | | | | | | |
| | Typical Annual Cost | $40 | $190 | $95 | $112 | $200 | |
| | PetPlus Annual Cost | $12 | $110 | $55 | $68 | $150 | |
| | Sample Annual PetPlus Savings | $28 | $80 | $40 | $44 | $65 | |
| | | | | | | $242 | |
Typical Annual Cost
PetPlus Annual Cost
Sample Annual PetPlus Savings
We're Here to Help You Every Step of the Way
| | |
| --- | --- |
| Wholesale Prices on Pet Medication & Supplements | |
| Free 24/7 Pet Help provided by whiskerDocs | |
| Wholesale Prices on RX & Premium Foods and Treats | |
| Convenient Medication Pickup Option | |
| Free Delivery on Medication | |
Product Description
Diphenhydramine is an antihistamine, also known as the generic form of Benedryl. It is used to treat allergies, insect stings/bites, motion sickness and travel anxiety. The medication is safe for all ages and weights of dogs or cats. It should not be used by dogs or cats that are pregnant or nursing.

Dosage is .5-2mg per pound of your pet; be sure to administer the proper dosage. See directions below and your package instructions for details. Always follow your veterinarian's prescribed dosage if it differs from the standard dosage recommendations.

Diphenhydramine is the Generic Alternative to Benadryl and/or Apoquel.
Diphenhydramine HCL should be used with caution in pets suffering from angle-closure glaucoma, prostatic hypertrophy, bladder neck or pyloroduodenal obstruction, COPD, hyperthyroidism, cardiovascular disease, or hypertension. Should only be used in pregnant patients when the benefits outweigh the risks. Taking diphenhydramine with CNS depressants might cause excessive depression of the central nervous system. MAOI inhibitors might intensify the anticholinergic effects of diphenhydramine. Diphenhydramine might overly enhance the effects of epinephrine, and counteract the anticoagulant effects of heparin or warfarin. Possible side effects of diphenhydramine HCL are CNS depression, dry mouth, urine retention, vomiting, diarrhea, and loss of appetite. The sedative effects of diphenhydramine might lessen over repeated uses. In some cats, a paradoxical CNS excitation might occur.
Side Effects & Warnings
Common side effects are drowsiness and dry mouth. Your pet may also develop urinary retention. Other side effects that are less common include diarrhea, vomiting and lack of appetite. If any symptoms appear to distress your animal, contact your veterinarian. Always tell your veterinarian all the medicines your pet is on before adding new medications.

Do not use if cat or dog is pregnant or nursing. Do not administer to pets suffering from glaucoma, high blood pressure, urinary obstruction, and prostate disease. Use with caution when given with other CNS (central nervous system)-depressant drugs such as tranquilizers or barbiturates.

Use caution when used in conjunction with CNS depressants, heparin, warfarin, and epinephrine.
Ingredients
Diphenhydramine
Diphenhydramine HcL is an ethanolamine derivative H1 receptor antihistamine, with secondary sedative, anticholinergic, antitussive, and antiemetic effects. In other words, this drug blocks the part of the brain that responds to allergens (histamine), relaxes them, keeps them from coughing, and prevents nausea. Most offten used in pets that suffer from seasonal allergies, this medication is helpful when dealing with rashes, like pruritus or insect bites, or when dealing with motion sickness. Available in multiple strengths (prescription and OTC) and as a tablet or an injectable, there are a number of different ways to optimize the way your pet receives their treatment depending on their condition. 
Directions
Use as directed by your veterinarian. The typical dosage is .5-2mg per pound. Administer the pill orally. Do not mix in with food.
For dogs, anywhere between 1 - 4 mg/kg orally or IM every 8 hours
For cats, anywhere between 0.5 - 4 mg/kg orally or IM every 8 hours