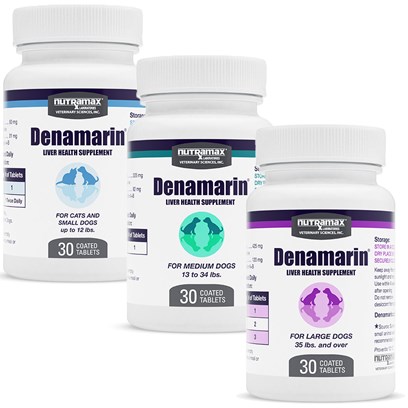 Nutramax Denamarin Liver Health Supplement Tablets
Every time a new member signs up, we will donate a FREE membership to a Best Friends adopted animal. Best Friends is America's largest animal sanctuary.
YOUR FUTURE PETCARE NEEDS
Our customers typically save close to $200/yr when purchasing preventatives as members of PetPlus.
PetPlus is a membership plan that gives you wholesale pricing on preventatives, supplements and speciality foods.
With Free Shipping always, no minimums.
Why Become A Member? Additional Ways To Save With PetPlus
Typical Annual Savings "For Your Pet
| | | | | | | | |
| --- | --- | --- | --- | --- | --- | --- | --- |
| | | | | | | | |
| | Typical Annual Cost | $40 | $190 | $95 | $112 | $200 | |
| | PetPlus Annual Cost | $12 | $110 | $55 | $68 | $150 | |
| | Sample Annual PetPlus Savings | $28 | $80 | $40 | $44 | $65 | |
| | | | | | | $242 | |
Typical Annual Cost
PetPlus Annual Cost
Sample Annual PetPlus Savings
We're Here to Help You Every Step of the Way
| | |
| --- | --- |
| Wholesale Prices on Pet Medication & Supplements | |
| Free 24/7 Pet Help provided by whiskerDocs | |
| Wholesale Prices on RX & Premium Foods and Treats | |
| Convenient Medication Pickup Option | |
| Free Delivery on Medication | |
Product Description
Comprehensive Guide to Denamarin Tablets
Meet the Pet's Liver Health Support: Denamarin Tablets!
Denamarin Tablets are the #1 veterinarian-recommended and over-the-counter liver health support brand. Denamarin Tablets are a supplement for both dogs and cats containing S-Adenosylmethionine (SAMe) and Silybin A + B.
*New Packaging*
How does Denamarin Tablets work?
Whenever the liver function is compromised, it is essential to keep it working properly. Denamarin Tablets work with two active ingredients - S-Adenosylmethionine (SAMe) and Silybin A + B.
SAMe, found naturally in the body, increases liver levels of glutathione when it metabolizes. Denamarin Tablets' addition of SAMe helps protect liver cells from cell death and helps cell reparation and regeneration. It supports cognitive brain function as well as a neuroprotector. It enhances bile flow in cats.
The active ingredient Silybin is an antioxidant that improves liver function by increasing liver glutathione levels and maintaining a healthy oxidative balance. Silybin helps support your pet's liver and is an active part of a milk thistle extract called silymarin. Silybin supports cell regeneration by improving the liver's protein synthesis.
How are Denamarin Tablets administered?
Denamarin Tablets are administered orally once daily for a consecutive 15 to 30 days. They are given on an empty stomach at least one hour before feeding since food decreases the absorption of S-Adenosylmethionine.
Available are the blue box of 90 mg for cats and small dogs, the green box of 225 mg for medium dogs, and the purple box of 425 mg for large dogs. Cats take enteric-coated tablets and dogs can take scored chewable tablets. See Denamarin Tablets dose chart below determined by the pet's body weight:
| Pet's Weight | Denamarin Tabs (mg) | SAMe (mg) | Silybin (mg) |
| --- | --- | --- | --- |
| Cats/Small Dogs (1 - 12 lbs.) | Denamarin 90 mg | 90 | 9 |
| Medium Dogs (13 - 34 lbs.) | Denamarin 225 mg | 225 | 24 |
| Large Dogs (35 and over lbs.) | Denamarin 425 mg | 425 | 35 |
Consult your veterinarian for any specifics and adjustments for administration, such as giving them anywhere from one to three tablets per dose depending on the weight of the pet.
What are the precautions of which you should be aware?
Do not give it to pets under 6 weeks of age. Pets without liver disease do not need to be given Denamarin Tablets.
What are the potential Denamarin Tablet side effects of which you should be aware?
Denamarin Tablets and their active ingredients have no reported side effects for both dogs and cats. There is a wide margin of safety.
Frequently Asked Questions
What is the difference between Denamarin Tablets for dogs and cats?

One helpful way to support liver health is by adding the supplement https://www.petcarerx.com/denamarin-tablets/13016 Tablets to your dog or cat's diet. Help your pet repair damage to and manage their liver.

What is the difference between Denamarin Tablets and Denamarin Advanced?

The only difference is that the Denamarin Advanced uses the latest SAMe innovation.

What is the difference between Denamarin Tablets for large dogs, small dogs, and medium dogs?

The doses are determined by the pet's body weight.

For what is Denamarin Tablets used?

To help support your pet's liver function.

What do Denamarin Tablets for dogs reviews say?

Denamarin Tablets reviews rate 5 out of 5 stars. Most reviewers say that Denamarin Tablets improve and protect their pet's liver function effectively.

How do you know that Denamarin Tablets is working?

At home, watch for a positive response in your pet's attitude, appetite, and activity level.
Concluding Thoughts
The most important thing that you should know about Denamarin Tablets is that it can help any damage to the liver heal itself and turn back the clock!
DISCLAIMER: FDA law restricts Denamarin Tablets only on order or prescription of a licensed veterinarian for the best pet health care advice. Ask your veterinarian or consult with one of our pet care specialists at 1-800-844-1427, if this is a suitable product for your pet and your home. This informative article is not meant to substitute for the diagnosis, treatment, and professional advice from your veterinarian or other qualified professionals regarding a medical condition. Never disregard or delay seeking professional advice due to what you may have read on our website. Our medications are FDA-approved and/or EPA regulated when and as required by law.
For dogs that do not do well with swallowing pills, try
Denamarin Chewables
.
Side Effects & Warnings
There have been no reported side effects; Denamarin is safe for both cats and dogs.

Ingredients
S-Adenosylmethionine 425 mg, Silybin-phosphatidylcholine complex (SPC)* 120 mg, *Providing 35 mg of Silybin A+B
Directions
For dogs up to 12 lbs, 1 tablet per day. For cats up to 12 lbs, 1 tablet per day; for cats over 12 lbs one tablet twice daily. Tablets should be given on an empty stomach for optimal absorption. They may be given at least two hours after a meal or one hour before a meal.