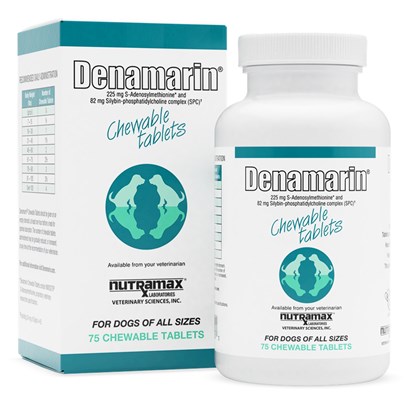 Nutramax Denamarin Liver Health Supplement Chewable Tablets for Dogs
Every time a new member signs up, we will donate a FREE membership to a Best Friends adopted animal. Best Friends is America's largest animal sanctuary.
YOUR FUTURE PETCARE NEEDS
Our customers typically save close to $200/yr when purchasing preventatives as members of PetPlus.
PetPlus is a membership plan that gives you wholesale pricing on preventatives, supplements and speciality foods.
With Free Shipping always, no minimums.
Why Become A Member? Additional Ways To Save With PetPlus
Typical Annual Savings "For Your Pet
| | | | | | | | |
| --- | --- | --- | --- | --- | --- | --- | --- |
| | | | | | | | |
| | Typical Annual Cost | $40 | $190 | $95 | $112 | $200 | |
| | PetPlus Annual Cost | $12 | $110 | $55 | $68 | $150 | |
| | Sample Annual PetPlus Savings | $28 | $80 | $40 | $44 | $65 | |
| | | | | | | $242 | |
Typical Annual Cost
PetPlus Annual Cost
Sample Annual PetPlus Savings
We're Here to Help You Every Step of the Way
| | |
| --- | --- |
| Wholesale Prices on Pet Medication & Supplements | |
| Free 24/7 Pet Help provided by whiskerDocs | |
| Wholesale Prices on RX & Premium Foods and Treats | |
| Convenient Medication Pickup Option | |
| Free Delivery on Medication | |
Product Description
Overview of Denamarin Chewable Tablets for Dogs
What Is Denmarin for Dogs?
Denamarin is a chewable tablet that contains two active ingredients that support liver function. It protects against liver damage and supports the liver healing itself as well. It is also used for dogs with declining liver function to increase the efficacy of the liver.
What Are Denamarin Chewable Tablets for Dogs Made Of?
Denamarin has two active ingredients. One is called S-Adenosylmethionine or SAM-e, and the other is called Silybin. When you give SAM-e liver supplements for dogs, the levels of glutathione increases. Glutathione is an essential marker of liver health, and increased levels indicate a healthy liver.
SAM-e also prevents cell death in the liver and can promote the repair of the cells and regeneration. Silybin is derived from milk thistle and is also known as silymarin. It helps by maintaining optimal oxidative balance in the liver, which boosts liver function.
Do I Need a Prescription for This?
No, you do not need a prescription to buy Denamarin chewable tablets for dogs. These tablets are a nutritional supplement, not a prescription medication. It is available to buy over the counter.
What Is the Dosage for Denamarin Chewable Tablets in Dogs?
As this is a nutritional supplement, the recommended dosages are printed on the bottle itself. These are only a guideline to give them to your dog. Your vet can make modifications to this guideline that is more suited to your dog's particular needs. You can give Denamarin to your dog according to the following chart:
| Your Dog's Weight | Dosage To Give Daily |
| --- | --- |
| Up to 6 lbs | 1/4th tablet |
| 7 - 15 lbs | tablet |
| 16 - 30 lbs | One tablet |
| 31 - 45 lbs | 1.5 tablets |
| 46 - 60 lbs | Two tablets |
| 61 - 75 lbs | 2.5 tablets |
| 76 - 90 lbs | Three tablets |
| 91 - 105 lbs | 3.5 tablets |
| Over 105 lbs | Four tablets |
Please consult your vet before starting any new supplement or medication, especially if your dog is already on some form of a treatment plan. Your vet will know best if there is any potential for drug interactions that can negatively affect your pet's health.
Are There Any Precautions I Need to Take When Giving Denamarin to Dogs?
Nutramax suggests that you give your dog Denamarin tablets on an empty stomach at least one hour before food. This is to ensure that the ingredients are absorbed most effectively.
When you introduce any new food into your dog's diet, you might notice he or she has a slight tummy upset. To mitigate that, you should make sure your dog has access to a clean bowl of water at all times. In case of any adverse reactions, please call your vet immediately.
Are There Any Side Effects?
Denamarin chewable tablets for dogs has no reported side effects. Liver function supplements for dogs generally should not have any side effects. However, if you observe any issues like vomiting or diarrhea, you should contact your vet.
If your dog has a sensitive stomach, you can expect minor issues like indigestion or bloating when introducing any new food, including SAM-e liver supplements for dogs.
Can I Give My Dog Denamarin if He Is Allergic to Milk Thistle?
Denamarin chewable tablets contain SAM-e and Silybin. The latter is an active ingredient extracted from milk thistle. You should consult your vet before you give this supplement to your dog because your dog might be allergic to this as well and might have an allergic reaction.
Frequently Asked Questions
What Does a Liver Supplements for Dogs Do?

Liver supplements support liver function in dogs. It is a preventative and supportive nutritional supplement similar to a multivitamin for humans. When you give Denamarin to dogs, you are using milk-thistle derived actives that ensure that your dog's liver function is fully supplemented perfectly.

Why Should I Use a Liver Supplement for Dogs?

You should use a liver supplement for dogs because prevention is better than cure. The liver can quietly malfunction, and neither you nor your vet wants to be caught unawares!

Instead, use Denamarin chewable tablets for dogs to ensure that your dog's liver function is not affected through all the ups and downs of life. Depending on your dog's weight, 1/4 to 4 tablets can prevent a bigger worry!

What Is the Best Liver Supplement for Dogs?

The best liver supplement for your dog is the one that is suited to your dog's needs! If you have done your research and are looking for a liver supplement for dogs that contains SAM-e's and milk thistle extracts, then Denamarin chewable tablets are a great option. Their chewable form makes it convenient to give to even the fussiest dogs!

Are These in Tablet Form?

These are chewable tablets. This means that the medicine has been mixed into a palatable, edible tablet that most dogs will want to eat. Chewable tablets are a massive boon for fussy dogs who do not like to take their medication.

Can I Give This to My Dog Two Times a Day Instead of Once a Day?

You can break up the daily recommended intake for Denamarin for dogs into two halves and give it to your dog twice a day. If you want to give more than the daily recommended allowance, you should consult your vet and ask if it is safe.

While this does not have any side effects when given within a specific safe range, it might have unexpected effects at high doses.
Side Effects & Warnings
There have been no reported side effects for Denamarin for dogs or cats.
Ingredients
S-Adenosylmethionine* 225 mg, Silybin-phosphatidylcholine complex (SPC) 82 mg. *Contains NMXSS75® S-Adenosylmethionine, proprietary veterinary researched specifications. Providing 24 mg of Silybin A+B
Directions
Denamarin® Chewable Tablets should be given on an empty stomach, at least one hour before a meal for optimal absorption. The number of chewable tablets administered may be gradually reduced, or increased, at any time at the recommendation of your veterinarian.