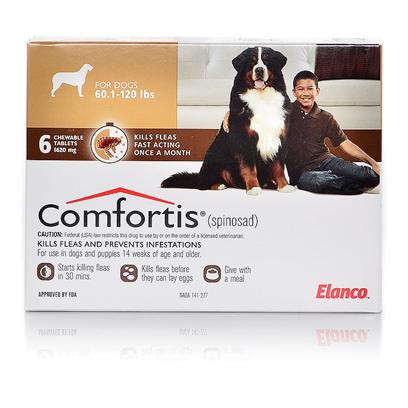 Comfortis Flea Preventative
Every time a new member signs up, we will donate a FREE membership to a Best Friends adopted animal. Best Friends is America's largest animal sanctuary.
YOUR FUTURE PETCARE NEEDS
Our customers typically save close to $200/yr when purchasing preventatives as members of PetPlus.
PetPlus is a membership plan that gives you wholesale pricing on preventatives, supplements and speciality foods.
With Free Shipping always, no minimums.
Why Become A Member? Additional Ways To Save With PetPlus
Typical Annual Savings "For Your Pet
| | | | | | | | |
| --- | --- | --- | --- | --- | --- | --- | --- |
| | | | | | | | |
| | Typical Annual Cost | $40 | $190 | $95 | $112 | $200 | |
| | PetPlus Annual Cost | $12 | $110 | $55 | $68 | $150 | |
| | Sample Annual PetPlus Savings | $28 | $80 | $40 | $44 | $65 | |
| | | | | | | $242 | |
Typical Annual Cost
PetPlus Annual Cost
Sample Annual PetPlus Savings
We're Here to Help You Every Step of the Way
| | |
| --- | --- |
| Wholesale Prices on Pet Medication & Supplements | |
| Free 24/7 Pet Help provided by whiskerDocs | |
| Wholesale Prices on RX & Premium Foods and Treats | |
| Convenient Medication Pickup Option | |
| Free Delivery on Medication | |
Product Description
Ultimate Guide to Comfortis
Meet the First Chewable Flea Killer: Comfortis!
Comfortis is the first oral veterinarian-approved and FDA-approved flea preventative for dogs AND cats. The beef-flavored chewable starts killing fleas 30 minutes after ingesting. Comfortis ensures that your pet is in the best lovable condition comfortably.
How does Comfortis work?
Comfortis is a flea medicine with one active ingredient, the well-known insecticide Spinosad. Spinosad is an effective natural substance known to cause flea paralysis once the blood-sucking parasite is exposed to their nervous system and then effectively kills them before they lay eggs. A pet owner will see the fleas will fall off of their beloved pets beginning 30 minutes after pilling.
How is Comfortis administered?
Comfortis is administered orally once a month and protects your pet for the next 30 days. These beef-flavored chews are highly recommended to be ingested in a meal for maximum effectiveness. Comfortis is used year-round for maximum effectiveness.
| Body Weight of Dog (D) or Cat (C) | Spinosad per Tablet (mg) | No. of Tablet(s) |
| --- | --- | --- |
| D 5 - 10 lbs. C 4 - 6 lbs. | 140 (Pink) | One |
| D 10.1 - 20 lbs. C 6 - 12 lbs. | 270 (Orange) | One |
| D 20.1 - 40 lbs. C 12 - 24 lbs. | 560 (Teal) | One |
| 40.1 - 60 lbs. | 810 (Blue) | One |
| 60.1 - 120 lbs. | 1620 (Brown) | One |
Pet owners especially love that they and their family can play with or touch their pets after treatment, pets can play or get wet (e.g., bathe or swimming) after pilling, and there is no mess or stain on cloth as commonly seen from topical solutions.
What are the potential side effects of which you should be aware?
Your dog might most likely experience vomiting after ingesting Comfortis's chew! If vomited within the first hour, your dog must ingest another full dosage.
Other possible reactions can be diarrhea, depression, incoordination, and decreased appetite.
Comfortis can be taken simultaneously with heartworm prevention products or other intestinal parasite preventatives. Intense itching can cause a pet to ingest a flea while scratching or chewing their skin or coat, which may cause tapeworm infestation.
Frequently Asked Questions
Can I get Comfortis without a vet prescription?

Unfortunately not. Pet medications need prescriptions. If your dog or cat has fleas, you need the brand Comfortis, or generic medical name spinosad. When it comes to eliminating fleas on your dog or cat, you want a flea medicine you can trust.

Is there a difference between Comfortis for dogs and for cats?

They work the same for dogs and for cats. Cats can be a little more finicky when it comes to giving them their monthly flea medicine. In controlled laboratory studies, Comfortis kills 100% of fleas on dogs and 98% of fleas on cats after four hours.

What do the Comfortis reviews say?

Comfortis reviews rated 5 out of 5 stars. Most reviewers say that Comfortis is the best flea treatment out there but can be impossible for their pets, especially cats, to take every month. Once treated, pet owners don't see fleas anymore on their dogs or cats.

What Comfortis dosages are available?

Dogs and cats are administered a dosage of 13.5 mg/lb (30 mg/kg) per tablet. See the chart above for various dosages and box colors per weight.

Is Comfortis Flea Preventative for small dogs (i.e., puppies) and kittens?

Comfortis can be used by puppies or kittens that are at least 14 weeks and older. It's approved for cats that weigh a minimum of 4.1 pounds and dogs that are 5.0 lbs.

What are the most common Comfortis side effects?

Vomiting and anything associated with vomiting. A pet that vomits within the hour of administration of Comfortis must be given another full dose of a chew. Other observed side effects can be itching, diarrhea, decreased appetite, depression, incoordination/trembling, hypersalivation, or seizures.

How long does it take for Comfortis to work?

Comfortis starts working and killing fleas after 30 minutes and works for 30 plus days. In a controlled laboratory study after four hours, Comfortis kills 100% of fleas on dogs and 98% of fleas on cats.
Concluding Thoughts
The most important thing that you should know about Comfortis is that this seems to be the best flea treatment out there for dogs AND cats. This revolutionary monthly, beef-flavored oral chewable starts working and killing fleas after 30 minutes after treatment and it is beloved by pet owners that don't have to wait to touch their pets, to allow for their pets to play or get wet, don't have to isolate them from other non-treated pets, or to worry about stains on their furniture or clothes.
DISCLAIMER: FDA law restricts Comfortis Flea Preventative only on order or prescription of a licensed veterinarian for the best pet health care advice. Ask your veterinarian or consult with one of our pet care specialists at 1-800-844-1427.
This informative article is not meant to substitute for the diagnosis, treatment, and professional advice from your veterinarian or other qualified professionals regarding a medical condition. Ask your veterinarian if it's a good idea to treat all of the animals in your household to control a home flea infestation.
Side Effects & Warnings
Comfortis side effects are associated most commonly with vomiting. Other possible reactions are depression, decreased appetite, diarrhea, itching, trembling, hypersalivation, and seizures. Comfortis may be used concurrently with heartworm prevention products, as they are directed.
Directions
Administer correct dose monthly, as prescribed by your veterinarian, with food, year-round without interruption. If you miss a dose, immediately administer Comfortis and resume regular monthly dosing.