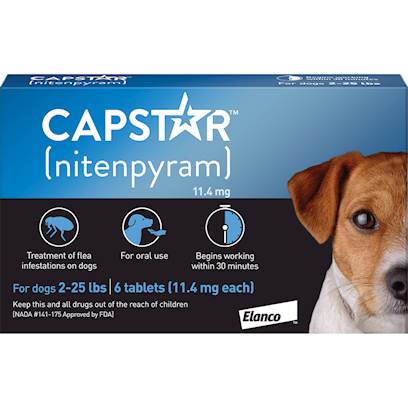 Capstar Flea Killer for Dogs
Every time a new member signs up, we will donate a FREE membership to a Best Friends adopted animal. Best Friends is America's largest animal sanctuary.
YOUR FUTURE PETCARE NEEDS
Our customers typically save close to $200/yr when purchasing preventatives as members of PetPlus.
PetPlus is a membership plan that gives you wholesale pricing on preventatives, supplements and speciality foods.
With Free Shipping always, no minimums.
Why Become A Member? Additional Ways To Save With PetPlus
Typical Annual Savings "For Your Pet
| | | | | | | | |
| --- | --- | --- | --- | --- | --- | --- | --- |
| | | | | | | | |
| | Typical Annual Cost | $40 | $190 | $95 | $112 | $200 | |
| | PetPlus Annual Cost | $12 | $110 | $55 | $68 | $150 | |
| | Sample Annual PetPlus Savings | $28 | $80 | $40 | $44 | $65 | |
| | | | | | | $242 | |
Typical Annual Cost
PetPlus Annual Cost
Sample Annual PetPlus Savings
We're Here to Help You Every Step of the Way
| | |
| --- | --- |
| Wholesale Prices on Pet Medication & Supplements | |
| Free 24/7 Pet Help provided by whiskerDocs | |
| Wholesale Prices on RX & Premium Foods and Treats | |
| Convenient Medication Pickup Option | |
| Free Delivery on Medication | |
Product Description
Ultimate Guide to Capstar Flea Killer for Dogs
Meet the Relentless Flea Killer: Capstar!
Capstar Flea Killer for Dogs is an oral tablet that is easy to administer and offers quick relief for all pets. It is famously known to start killing adult fleas and their infestations in just 30 minutes is a veterinarian-approved potent dog flea killer medication that protects your dog from the irritating flea infestations. Capstar continues to work for the next 24-48 hours after administering it.
How does Capstar work?
Capstar is a medication with one active ingredient and generic name Nitenpyram. Nitenpyram is a systemic insecticide used to treat adult flea infestations and is effective in treating fly larvae aka maggots. As said before, the fleas start dying and falling off the dog (or cat) after 30 minutes and the effects can last up to 24-48 hours after administered.
How is Capstar administered?
Capstar is an oral tablet that can be administered once a day or weekly or whenever your dog needs it to kill a flea infestation, whether adult fleas or fly larvae. The Capstar tablet can be placed in the dog's mouth or eaten with the dog's food.
Which dogs should be distanced from Capstar?
Those who are allergic to the active ingredient Nitenpyram. Puppies that are less than 2 lbs or younger than 4 weeks old. It is safe to administer Capstar to pregnant and nursing dogs, but still, stay cautious. Most likely, dogs with liver or kidney disease shouldn't use Capstar.
What are the potential side effects of which you should be aware?
You don't need to be concerned about other medications taken with nitenpyram, but be transparent with your veterinarian about any medications that your dog is taking. Your pup doesn't require specific monitoring after Capstar is administered.
Capstar's rare and uncommon adverse reactions reported are vomiting, increased or decreased activity, lethargy, itching, decreased appetite, and diarrhea.
Frequently Asked Questions
Does Capstar Kill Flea Eggs?
Capstar doesn't work on fleas in the egg state. It requires the larvae to mature into adult fleas before the medication can start working. That's because the active ingredient, nitenpyram, only targets adult fleas. However, it offers great results on adult flea infestations in dogs and cats.
Once you administer Capstar Flea Killer, the nitenpyram present in it starts working within the first 30 minutes and continues to work for the next 24 to 48 hours. It's extremely effective for treating persistent flea infestations in adult dogs and cats. It even works on fly larvae (maggots).
Does Capstar Kill Fleas?
Absolutely. Capstar is a powerful veterinarian-recommended over-the-counter medication for treating adult flea infestations in dogs. Its active ingredient, nitenpyram, is a potent insecticide that kills flea and fly larvae without harming your pet. It starts working within 30 minutes of administering the medication and reaches its peak efficacy within four hours.
Nitenpyram from the tablet is quickly absorbed into your dog's bloodstream after you orally administer the medicine. Whenever a flea bites them, it ingests the blood containing nitenpyram. That's what causes fleas to die within 4 to 5 hours of administering Capstar Flea Killer to your dog.
Does Capstar Kill Flea Larvae?
While Capstar is one of the most effective flea control pills for dogs and cats, it doesn't work on flea larvae. But once the larvae reach the adult stage, Capstar offers great results. Also, it's easy to administer and doesn't cause any major side effects.
That means you can administer the tablet to your pet once a day or weekly without worrying about any adverse reactions. Once your dog ingests the tablet, its active ingredient starts getting absorbed into the bloodstream, and kills any fleas that bite your dog.
How Long Will Capstar Kill Fleas?
Once it's been administered, Capstar continues to kill fleas for the next 24 to 48 hours. Its maximum efficacy is reached within 4 hours of administering the drug. Around this time, you'll notice fleas (and/or maggots) falling off your pet's body.
Depending on the intensity of the infestation, you can administer a second dosage 1-2 days after the first one. Capstar flea tablets are safe for consumption once a day or on a weekly basis.
What Is in Capstar That Kills Fleas?
Capstar uses only one active ingredient with the generic name nitenpyram. It's a powerful systemic insecticide that makes Capstar one of the most effective flea pills on the market. While nitenpyram is known to instantly kill fleas and maggots, it doesn't cause any adverse reactions in dogs and cats.
You can administer the medication orally or mix it in your dog's food. Once your dog ingests the medicine, nitenpyram is quickly absorbed into their blood. This, in turn, kills fleas whenever they bite your dog's skin.
How Long Does It Take for Capstar to Kill Fleas?
Capstar Flea Killer starts working roughly 30 minutes after it's administered. That's the reason you'll notice ticks falling off your pet's body soon after they take the pill. The tablet becomes most active 4 hours after it's been administered. It continues to work for the next 24 to 48 hours as well.
Does Capstar Kill All Fleas?
Yes. Capstar is formulated to treat adult flea infestations in dogs and cats. It even works on fly larvae. While the medication doesn't work on flea eggs and larvae, it offers excellent results for adult fleas. You can even administer Capstar on young puppies who are more than 4 weeks of age and weigh more than 2 pounds.
Does Capstar Kill Fleas and Ticks?
Capstar kills adult fleas within 30 minutes of being administered. It's a great instant solution for treating heavy flea infestations in dogs and cats. Also, it works on fly larvae. But Capstar isn't effective in killing flea eggs, flea larvae, and ticks. If you're looking for a combined treatment for flea and tick infestation, make sure you consult your veterinarian.
Does Capstar Kill Fleas on Nursing Puppies?
Capstar isn't recommended for nursing puppies who are less than four weeks old. For puppies above the age of four weeks, you can administer Capstar if they weigh more than 2 lbs. It is, however, a good idea to consult your vet before using Capstar as a flea treatment for puppies. They'll help you determine the right dosage and frequency for administering the tablet.
Is Capstar a Monthly Flea Prevention Treatment?
When it comes to preventing flea infestations, Capstar may not offer the best results. That's because it doesn't kill flea eggs and larvae. However, it does provide instant relief in case of adult flea infestations. Also, you can administer it once a day or weekly depending on your dog's needs. If you're looking for a more permanent and preventative treatment, it's best to talk to your vet.
Concluding Thoughts
The most important thing that you should know about Capstar is that it is the ultimate solution for your dog's persistent flea problem with nitenpyram that starts killing fleas in the first 30 minutes after application. Its efficacy shows itself after 4 hours and continues to demonstrate its effects for 1-2 days after one dosage.
DISCLAIMER: Ask your veterinarian or consult with one of our pet care specialists at 1-800-844-1427. This informative article is not meant to substitute for the diagnosis, treatment, and professional advice from your veterinarian or other qualified professionals regarding a medical condition.
Side Effects & Warnings
Capstar Flea Killer is associated most commonly with itching soon after taken. However, the itching is caused by the fleas as they die, not Capstar, and is temporary. In rare cases, cats react with hyperactivity, panting, vocalization, and excessive grooming.
Capstar Flea Killer has no known adverse drug interactions and may be used with other products including antibiotics, corticosteroids, de-worming medications, heartworm preventives, shampoos, vaccines, and other flea products.
Ingredients
Nitenpyram
Overview 
The medication Nitenpyram is in use orally and helps to act rapidly against the fleas and is a neonicotinoid responsible for adulticide. 

Special Precautions
The use of Nitenpyram is not advisable for dogs that have allergies. Also, pets that are under two pounds of body weight or have an age of fewer than 4 weeks should not have the medication. The pets that are in the age bracket of four to eight weeks old should be cautiously given the medication. The pets that are thin or debilitated should not have the medication. The pregnant and nursing pets should have a cautious recommendation of the drug. 

Uses
Nitenpyram helps to ensure law toxicity and quick absorption for cats and dogs. This aspect helps to achieve great results with a single dose of the medication to eradicate the flea population at a rapid pace. Past studies indicate that fleas can get eradicated within 30 minutes of giving the medication. After around eight hours of medication, there is a reduction of around 98 to 99% of the reduction in most animals. The short life of the drug helps to clear out its residues from the body via urine quickly. Therefore, there will be no bioaccumulation of the product in your pet's body.

Mechanism of Action
This antiseptic drug has had phenomenal results in the treatment of fleas and showcases fast action for the killing of the fleas in their adult state. The inhibition of postsynaptic nicotinic acetylcholine receptors leads to the removal of sodium iron influx.

The complete absorption of Nitenpyram happens within a span of 8 to 9 hours in most animals. The apocalyptic effect of the drug on the fleas leads to their higher mortality rate under any condition. Your pet will get complete flea control and the drug will also move out of the system via urination quickly.

Known Drug Interactions
There are no visible interactions of Nitenpyram that are spotted to date. However, there are many studies that are being carried out to understand the impact of the drug on any other medicine. You can inform your veterinarian about any medication that your pet is currently taking.

Brand/Generic Equivalents
Capstar
Directions
Capstar Flea Killer may be administered orally, daily to weekly, mixed into food if necessary. See directions on packaging for proper dosage.