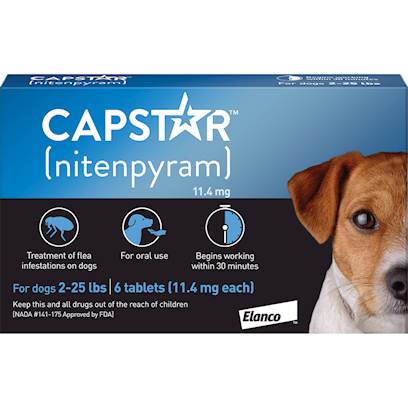 Capstar Flea Killer for Dogs
Every time a new member signs up, we will donate a FREE membership to a Best Friends adopted animal. Best Friends is America's largest animal sanctuary.
YOUR FUTURE PETCARE NEEDS
Our customers typically save close to $200/yr when purchasing preventatives as members of PetPlus.
PetPlus is a membership plan that gives you wholesale pricing on preventatives, supplements and speciality foods.
With Free Shipping always, no minimums.
Why Become A Member? Additional Ways To Save With PetPlus
Typical Annual Savings "For Your Pet
| | | | | | | | |
| --- | --- | --- | --- | --- | --- | --- | --- |
| | | | | | | | |
| | Typical Annual Cost | $40 | $190 | $95 | $112 | $200 | |
| | PetPlus Annual Cost | $12 | $110 | $55 | $68 | $150 | |
| | Sample Annual PetPlus Savings | $28 | $80 | $40 | $44 | $65 | |
| | | | | | | $242 | |
Typical Annual Cost
PetPlus Annual Cost
Sample Annual PetPlus Savings
We're Here to Help You Every Step of the Way
| | |
| --- | --- |
| Wholesale Prices on Pet Medication & Supplements | |
| Free 24/7 Pet Help provided by whiskerDocs | |
| Wholesale Prices on RX & Premium Foods and Treats | |
| Convenient Medication Pickup Option | |
| Free Delivery on Medication | |
Product Description
Ultimate Guide to Capstar Flea Killer for Dogs
Meet the Relentless Flea Killer: Capstar!
Capstar Flea Killer for Dogs is an oral tablet that is easy to administer and offers quick relief for all pets. It is famously known to start killing adult fleas and their infestations in just 30 minutes is a veterinarian-approved potent dog flea killer medication that protects your dog from the irritating flea infestations. Capstar continues to work for the next 24-48 hours after administering it.
How does Capstar work?
Capstar is a medication with one active ingredient and generic name Nitenpyram. Nitenpyram is a systemic insecticide used to treat adult flea infestations and is effective in treating fly larvae aka maggots. As said before, the fleas start dying and falling off the dog (or cat) after 30 minutes and the effects can last up to 24-48 hours after administered.
How is Capstar administered?
Capstar is an oral tablet that can be administered once a day or weekly or whenever your dog needs it to kill a flea infestation, whether adult fleas or fly larvae. The Capstar tablet can be placed in the dog's mouth or eaten with the dog's food.
Which dogs should be distanced from Capstar?
Those who are allergic to the active ingredient Nitenpyram. Puppies that are less than 2 lbs or younger than 4 weeks old. It is safe to administer Capstar to pregnant and nursing dogs, but still, stay cautious. Most likely, dogs with liver or kidney disease shouldn't use Capstar.
What are the potential side effects of which you should be aware?
You don't need to be concerned about other medications taken with nitenpyram, but be transparent with your veterinarian about any medications that your dog is taking. Your pup doesn't require specific monitoring after Capstar is administered.
Capstar's rare and uncommon adverse reactions reported are vomiting, increased or decreased activity, lethargy, itching, decreased appetite, and diarrhea.
Frequently Asked Questions
Is Capstar for cats?

Capstar Flea Killer for Cats is an over the counter daily oral tablet for quick relief for your cat's parasite problems.

Are there other ways that Capstar is taken besides flea tablets?

Capstar is an oral tablet that can be placed in the pup's mouth with or without food.

Why is Capstar considered a ruthless flea killer?

Capstar kills adult fleas before they can start an infestation on your pet and in the house. Capstar also kills fleas that may cause flea allergy dermatitis in dogs. Though Capstar may seem like a ruthless insecticide, it is gentle to its pet patients, whether puppies, adults, or pregnant dogs.

How long does it take for Capstar to work?

Capstar is considered an instant flea killer since it is a fast-acting flea tablet that starts killing fleas within the first 30 minutes, achieving efficacy against adult fleas within 4 hours for dogs. The effects of one dose continue for 24 to 48 hours.

Is Capstar for puppies?

Capstar Flea Killer for Dogs can be administered to puppies that are at least 4 weeks old and 2 pounds.

What is the Capstar dosage?

See directions on the packaging for proper dosage. Dosage is based on your dog's weight from 2-25 lbs and 26+ lbs. Each one offers 6 or 12 pack, but each Capstar tablet has different dosages, whether 11.4 mg each or 57.0 mg each.

Capstar requires a prescription or you can buy over-the-counter?

Capstar Flea Killer for Dogs (and for Cats) is recommended by veterinarians and doesn't require a prescription.

What should I do in case of an emergency?

If you suspect an overdose of the medication, call your veterinary office immediately, or take your dog to an emergency veterinary clinic.
Concluding Thoughts
The most important thing that you should know about Capstar is that it is the ultimate solution for your dog's persistent flea problem with nitenpyram that starts killing fleas in the first 30 minutes after application. Its efficacy shows itself after 4 hours and continues to demonstrate its effects for 1-2 days after one dosage.
DISCLAIMER: Ask your veterinarian or consult with one of our pet care specialists at 1-800-844-1427. This informative article is not meant to substitute for the diagnosis, treatment, and professional advice from your veterinarian or other qualified professionals regarding a medical condition.
Side Effects & Warnings
Capstar Flea Killer is associated most commonly with itching soon after taken. However, the itching is caused by the fleas as they die, not Capstar, and is temporary. In rare cases, cats react with hyperactivity, panting, vocalization, and excessive grooming.
Capstar Flea Killer has no known adverse drug interactions and may be used with other products including antibiotics, corticosteroids, de-worming medications, heartworm preventives, shampoos, vaccines, and other flea products.
Directions
Capstar Flea Killer may be administered orally, daily to weekly, mixed into food if necessary. See directions on packaging for proper dosage.