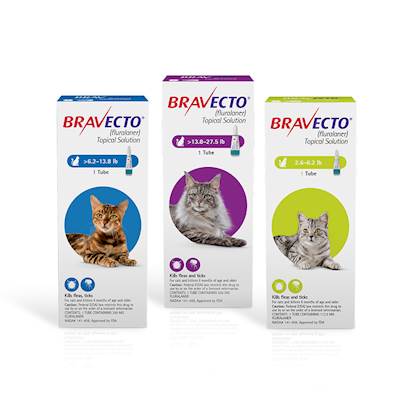 Bravecto Topical For Cats
Every time a new member signs up, we will donate a FREE membership to a Best Friends adopted animal. Best Friends is America's largest animal sanctuary.
YOUR FUTURE PETCARE NEEDS
Our customers typically save close to $200/yr when purchasing preventatives as members of PetPlus.
PetPlus is a membership plan that gives you wholesale pricing on preventatives, supplements and speciality foods.
With Free Shipping always, no minimums.
Why Become A Member? Additional Ways To Save With PetPlus
Typical Annual Savings "For Your Pet
| | | | | | | | |
| --- | --- | --- | --- | --- | --- | --- | --- |
| | | | | | | | |
| | Typical Annual Cost | $40 | $190 | $95 | $112 | $200 | |
| | PetPlus Annual Cost | $12 | $110 | $55 | $68 | $150 | |
| | Sample Annual PetPlus Savings | $28 | $80 | $40 | $44 | $65 | |
| | | | | | | $242 | |
Typical Annual Cost
PetPlus Annual Cost
Sample Annual PetPlus Savings
We're Here to Help You Every Step of the Way
| | |
| --- | --- |
| Wholesale Prices on Pet Medication & Supplements | |
| Free 24/7 Pet Help provided by whiskerDocs | |
| Wholesale Prices on RX & Premium Foods and Treats | |
| Convenient Medication Pickup Option | |
| Free Delivery on Medication | |
Product Description
Ultimate Guide to Bravecto Topical For Cats
Meet the 12-Week Cat Flea and Tick Preventative: Bravecto Topical for Cats!
Bravecto Topical for Cats is an FDA-approved veterinarian-prescribed cat topical medication that is a 12-week flea and ticks preventative solution. For 3 months, one oral scored chew kills 100% fleas after two hours and 100% ticks after 12 hours. Bravecto for Cats guarantees that you can give your cat its chewable tablet with confidence!
How does Bravecto for Cats work?
Bravecto for Cats is a medication with one active ingredient Fluralaner (brand Bravecto's generic name). Fluralaner is known to effectively prevent and control adult flea infestations before they lay eggs. It kills ticks too!
Once the cat ingests Bravecto for Cats, the active ingredient in Bravecto for cats Fluralaner distributes throughout the cat's body so that when the blood-sucking parasites bite your cat, their exposure to Fluralaner ultimately kills them.
A big plus is that Bravecto for Cats (and all Bravecto products) will kill infected black-legged ticks before they can transmit Lyme Disease.
How is Bravecto for Cats administered?
Bravecto for Cats is administered topically every 12 weeks and provides full-body protection from fleas and ticks for 3 months.
This is how to apply Bravecto for cats:
Immediately before use, open the pouch and remove the tube.
The tube should be held by the base or by the upper rigid portion below the cap in an upright position for opening it. The cap should be rotated clockwise or counterclockwise in one full turn. The cap does not come off.
The cat should be standing or lying with its back horizontal for easy application.
Part the hair at the base of the cat's neck and apply the entire dose of contents directly upon the cat's skin.
After application, wash hands and any contacted skin thoroughly with soap and water immediately after use.
Avoid eating, drinking, or smoking while handling Bravecto. Do not allow children to have contact with the application site until dry. Depending on the cat's weight, see the dosage chart below for Bravecto sizes for cats:
| Body Weight | Fluralaner per Tablet (mg) |
| --- | --- |
| 2.6 - 6.2 lbs. (Green Box) | 112.5 |
| 6.2 - 13.8 lbs. (Blue Box) | 250 |
| 13.8 - 27.5 lbs. (Purple Box) | 500 |
We have 12 weeks (1 dose), 24 weeks (2 doses), and 48 weeks (4 doses) boxes and products available.
What are the Bravecto flea and tick warnings and precautions of which you should be aware?
The medicine has not been evaluated for breeding, pregnant, or lactating cats. Fluralaner should be used with caution in cats with a history of seizures, a history of neurologic abnormalities, and kittens that are less than 6 months of age or weighing less than 2.6 lbs.
What are the side effects of Bravecto for cats of which you should be aware?
The Bravecto for Cats' most common adverse reactions are vomiting, diarrhea, itching, skin afflictions, hair loss, decreased appetite, lethargy, and seizures.
Frequently Asked Questions
What do the Bravecto Topical for Cats reviews say?

Bravecto for Cats reviews rate 5 out of 5 stars. Most reviewers say that Bravecto Chews for Cats is a highly recommended 3-month flea and tick treatment for cats, indoor and outdoor.

Can I purchase Bravecto without a vet prescription?

Bravecto is only available by prescription from your veterinarian or pharmacist.

How long does Bravecto take to dry?

24 hours. It is not recommended for adults, children, or other animals to touch or play with Fluralaner-treated cats. It is also recommended to bathe your cat for three days after treatment.

How does Bravecto work on cats?

Bravecto's Fluralaner topical solution for cats is applied directly to the cat's skin between the shoulder blades. After the cream dries on the skin and is absorbed into the cat's body, the flea or tick bite exposes them to the drug Fluralaner and ultimately kills them. Bravecto treats and controls cats' flea and tick infestations for a full 12 weeks.

How long until Bravecto starts working?

Within hours of treatment, the majority of fleas already on the cats will be killed. If there is a home flea infestation, the treatment won't eliminate reproduction, hatching, or adulthood, unless the fleas bite your treated cat and then are killed.

Is Bravecto for Cats for kittens?

Bravecto for kittens is approved for those that are at least 6 months old and weigh 2.6 pounds.
Concluding Thoughts
Finally, cat owners don't need to remember a monthly treatment but have extended 12-week pest protection! Bravecto Topical For Cats is the best flea and tick treatment for cats. Bravo for Bravecto!
DISCLAIMER: FDA law restricts Bravecto Topical For Cats only on order or prescription of a licensed veterinarian for the best pet health care advice. Ask your veterinarian or consult with one of our pet care specialists at 1-800-844-1427. This informative article is not meant to substitute for the diagnosis, treatment, and professional advice from your veterinarian or other qualified professionals regarding a medical condition.
Side Effects & Warnings
IMPORTANT SAFETY INFORMATION: The most commonly reported adverse reactions include vomiting, itching, diarrhea, hair loss, decreased appetite, lethargy, and scabs/ulcerated lesions. BRAVECTO Topical Solution for Cats has not been shown to be effective for 12-weeks' duration in kittens less than 6 months of age. BRAVECTO Topical Solution for Cats is not effective against American dog ticks beyond 8 weeks of dosing. For topical use only. Avoid oral ingestion. The safety of BRAVECTO Topical Solution has not been established in breeding, pregnant and lactating cats. Fluralaner is a member of the isoxazoline class. This class has been associated with neurologic adverse reactions including tremors, ataxia, and seizures. Neurologic adverse reactions have been reported in cats receiving isoxazoline class drugs, even in cats without a history of neurologic disorders. Use with caution in cats with a history of neurologic disorders.
Directions
Apply the dose to one spot on the skin on the back of the neck (push back fur if necessary). This will provide full body protection for 12 weeks. See product insert for complete application instructions.